Velvet Overalls: An Alternative to a Dress for the Holidays
Velvet for Holiday Outfits
If velvet makes up some aspect of your outfit, then you pretty much can consider yourself dressed up. That's the beauty of this luxe fabric! No matter how it incorporates itself into fashion, it is an instant stlye upgrade! Fast forward to this holiday season when velvet is still pretty much everywhere. Between, tops, dresses, pants, shoes and all sorts of accessories, velvet is dominating holiday fashion!
I never thought of velvet appearing on overalls. Walking into Anthropologie though, I came across these velvet overalls and gasped! Not only are they off the charts amazing, but I thought they would be a great alternative to wearing a dress this holiday season! Velvet overalls are the perfect marriage between comfort and luxe!
I have expressed my desire to be comfortable all the time even when dressed up! That is especially true for the holidays! As much as I do love to wear a dress, I prefer them in the summer over the winter. I am not a fan of fussing with hosiery and high heels that often leaves me uncomfortable. Jumpsuits have always been a great alternative but never did I imagine overalls would be a player in the dressy category!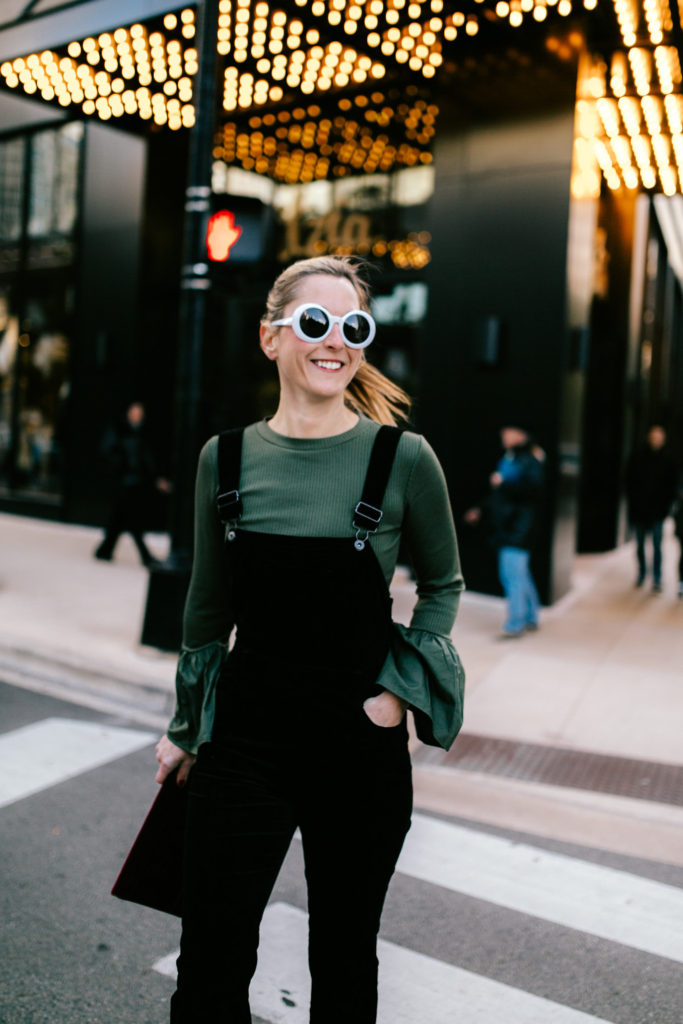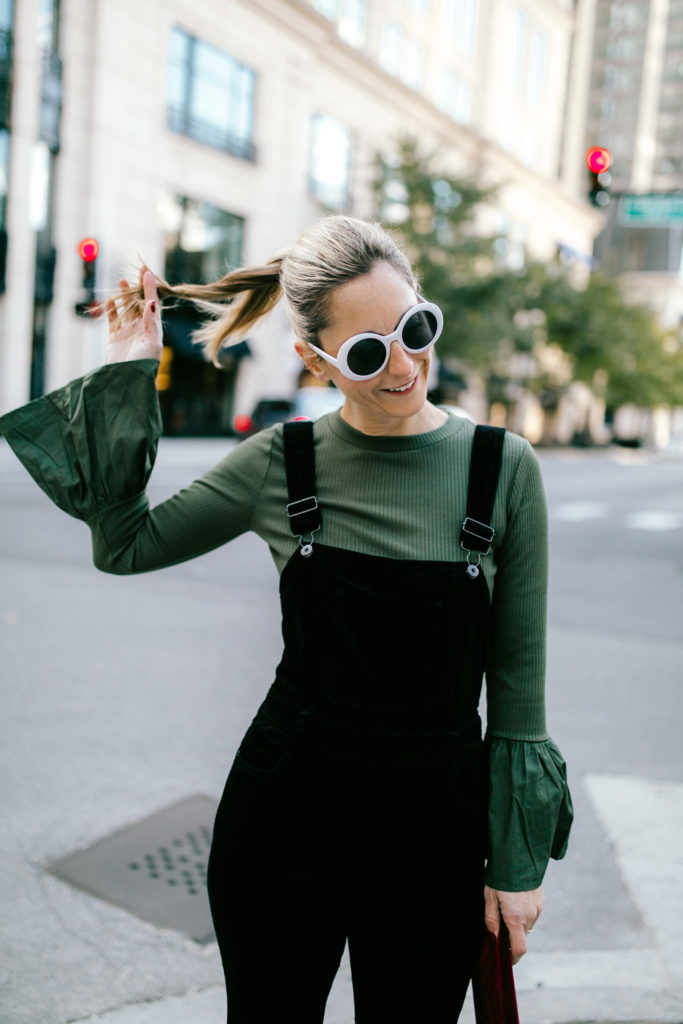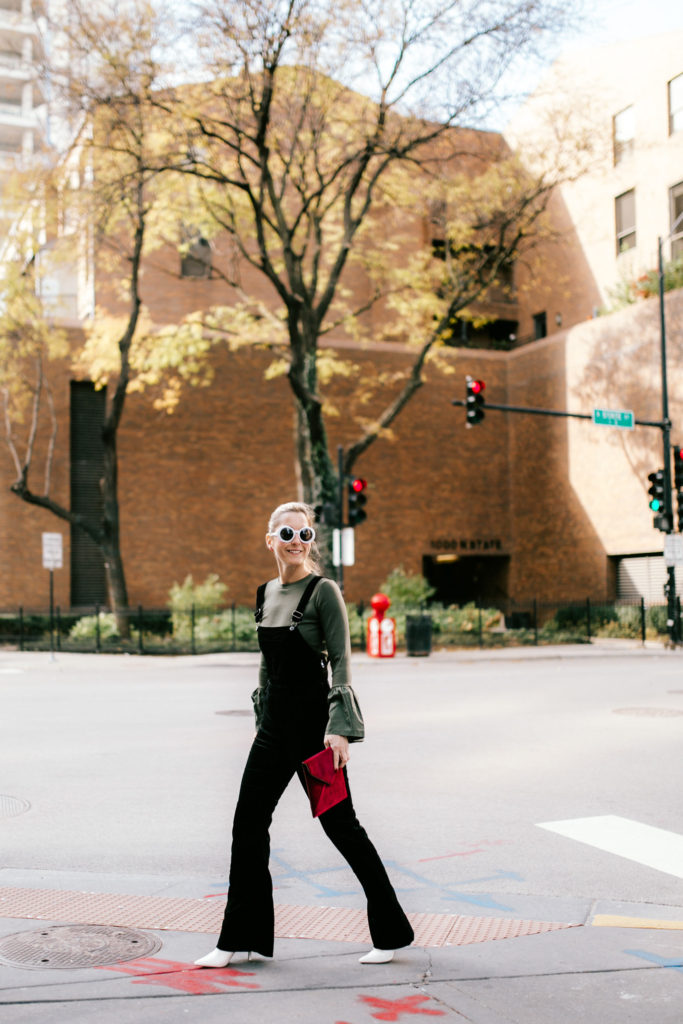 Overalls here  (order your denim size) // Top here and similar here // Clutch similar here // Boots here // Sunglasses here 
What to Wear with Velvet Overalls
When wearing overalls, there are a lot of options as to what you can wear underneath. To keep this look on the chic side, a festive or statement top works well. I love the bell sleeves and color of this top but also love this similar one here. Also, I almost went with this top from Banana Republic as I love the gold details.  Another fun option is plaid! I have this top and plan to wear it with these overalls as well!
I cannot get enough of these white boots so I naturally paired them with the overalls. A black slingback, pointed toe boot or pump is a great option as well! In terms of a bag, I brought out my favorite clutch for the holidays! There is a great collection of them available here with plenty on sale.
Finally, a statement earring would be perfect with this look as well. In fact, I love the idea of being head to to toe monochromatic in black and adding a drop earring.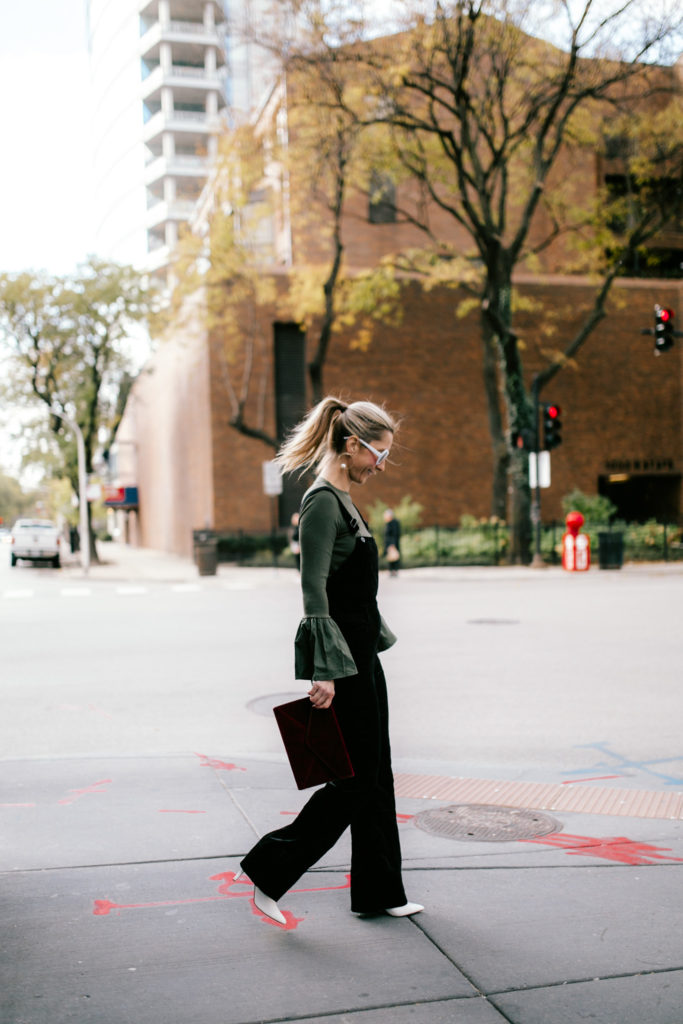 Current Holiday Sales
In addition to every post this holiday season, I will continue to link the best sales. There are still some great sales to be had even before Black Friday hits.  Current sales include:
Banana Republic: 40 percent off your entire purchase. Plus free shipping on orders of $50 or more. That means this top is on sale!
Old Navy: 40 percent off your entire purchase. Plus free shipping on orders of $50 or more. I always love their selection of Holiday pajamas!
Pottery Barn: Today only, 20 percent off your entire purchase plus free express shipping. I love these plaid platters for entertaining this season!
Williams Sonoma: 20 percent off electrics. Also, when I went to their page, I found this on MAJOR discount. I have it in green and it is perfect for making holiday stovetop potpourri. Plus it ships express and free!
Photos by Jules Kennedy 
Never Without Navy is also on Facebook, Instagram and Pinterest 
Thanks for stopping by!
L, M
For more holiday outfit ideas, see Holiday Style.
SaveSave
SaveSave
SaveSave
SaveSave
SaveSave
SaveSave
SaveSave
SaveSave
SaveSave