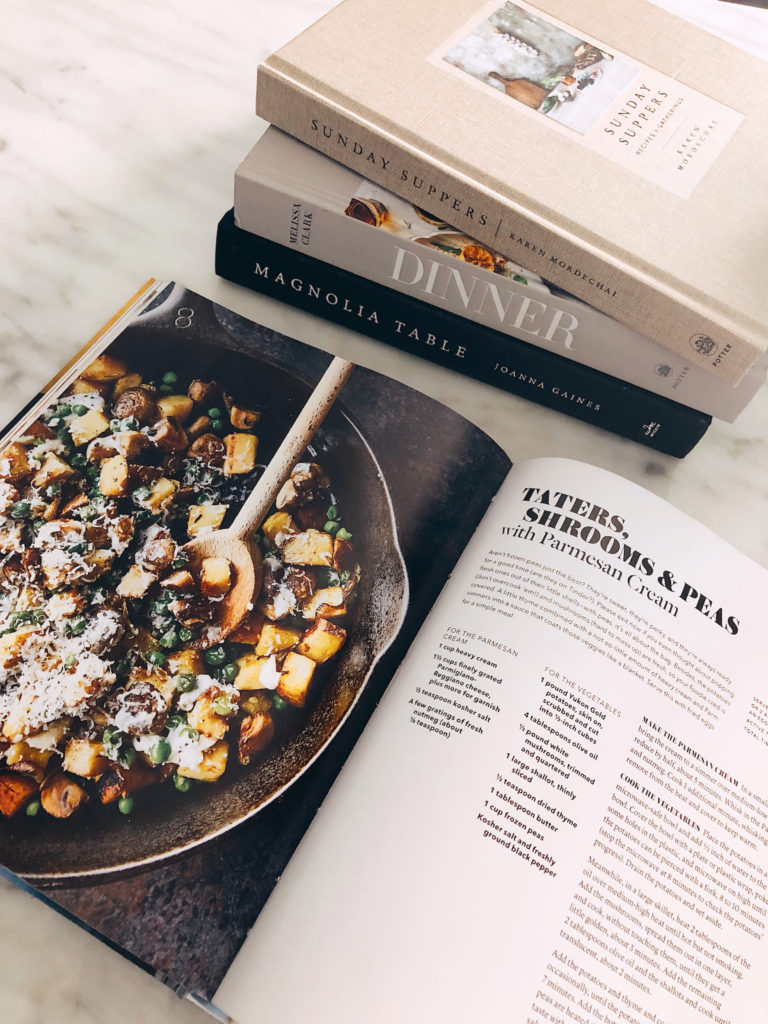 Sometimes the hardest part about meal planning is not necessarily coming up with recipes. Nor is it even going to the grocery store. Sometimes the hardest part is actually having the time and patience to prepare the meals!
That is why I try to find a time in my schedule during the day to dinner prep as much as I can before the hectic evening schedule starts. I literally carve out a time to wash, chop, measure and get out my cooking utensils for that night's dinner. And to make it all seem a little less mundane, I try to create a soothing atmosphere in the kitchen. I light a candle and always have on my favorite Sonos channel or Podcast playing in the background. That way it feels like it is more "me" time than actual "chore" time!
Weekly Meal Plan Vol.4
For Link To All Recipes Click HERE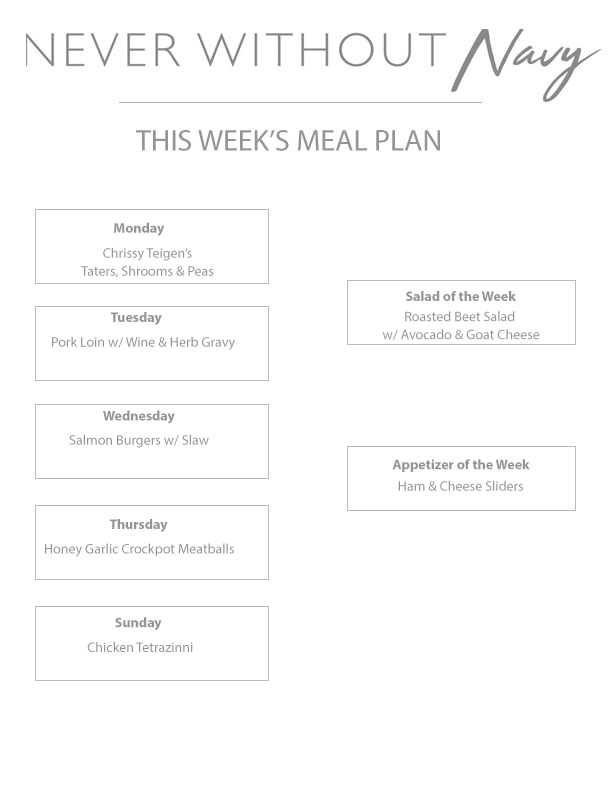 Monday
Chrissy Teigen's Mushrooms, Shrooms & Peas. I just love Chrissy Teigen! And I really love her cookbooks. Her recipes always ooze plenty of comfort that just seem to be filled with love! This recipe is one of my favorite of hers and I get so excited when we have it. For some added protein, throw shredded chicken into the mix!
Tuesday
Pork Loin with Wine & Herb Gravy. One dish dinners make weekly meals so much easier. Not just with the prep but more importantly with the clean up! I always love the combination of a wine and cream sauce. It just makes everything smell and taste so elegant!
Wednesday
Salmon Burgers with Slaw. I really try to get fish on the menu once a week! And for salmon burgers or cakes, I actually use pouched salmon versus "fresh". Pouched salmon is always wild caught so it is a good healthy option. Plus it eliminates the step of cooking the salmon yourself!
Thursday
Honey Garlic Crockpot Meatballs. Halloween night! When the kids were little I always made tortellini soup on Halloween night. That way they could quickly stop in, grab a bowl of sustenance and warmth, and then head back out for candy grabbing. I linked a tortellini soup recipe in my fall food plan here but this year, I need something in the crockpot with a busy activity night! This recipe calls for frozen meatballs (again a great time saver) and it is super quick and easy to throw together! They work great over rice or thick noodles!
Sunday
Chicken Tetrazinni. We have a birthday in the house! And even though Madeline is a vegetarian, she is requesting this casserole (hold the chicken on her side!). My mom made this all the time when we were growing up and it still remains a family favorite!
Salad of the Week
Roasted Beet Salad with Avocado & Goat Cheese. Madeline loves beets which makes me so happy! Roasting them is so easy, and I personally feel, brings our their better flavor. This salad is filling, pretty and oh so good!
Appetizer of the Week
Ham & Cheese Sliders. Sometimes appetizers don't have to make a beautiful presentation. They just need to be good and filling! I made this mini sandwiches for a Halloween party on Saturday night and they were a huge hit! Especially with the guys. They also make for an easy weekend lunch!
To get your hands on all the cookbooks I use to meal plan, head to my current favorite list here
For additional meal plans click here
Bon Appetit!
You can also follow me on Facebook, Instagram and Pinterest 
Thanks for stopping by!
L, M