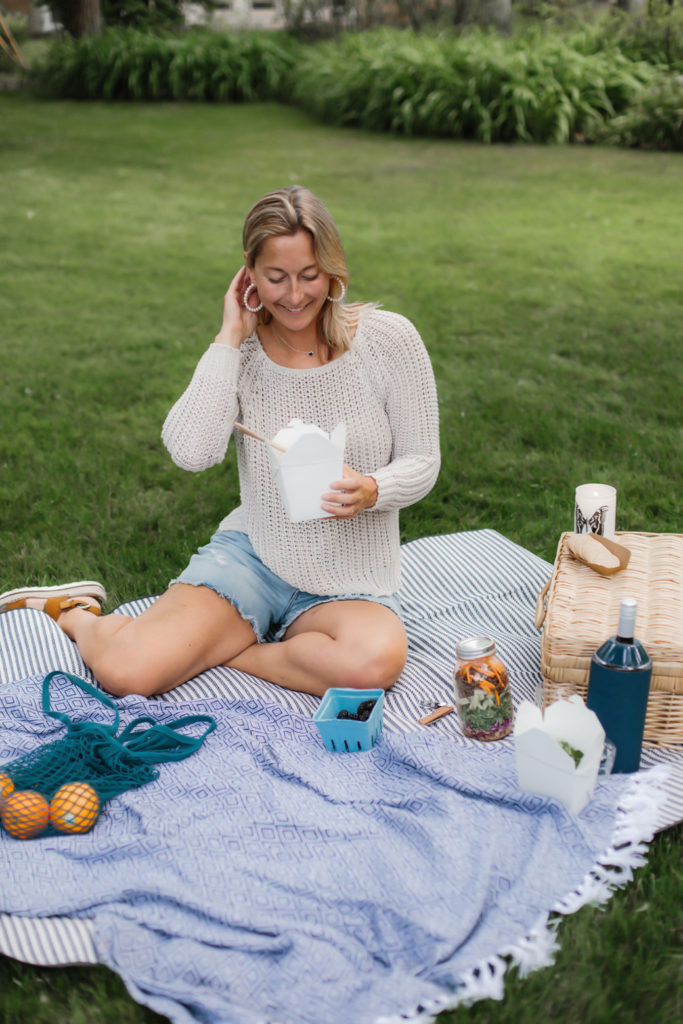 Packing up a picnic and heading to the beach or a grassy meadow with a beautiful backdrop is a summertime favorite. And yet, a picnic does not really have to go further then your own backyard! I find it to be another nice way to entertain friends in an outdoor setting or simply a different way to do dinner with your family! It can even be a simple change of scenery for you and a good book!
Yet the thought of packing up a picnic might seem like a hassle. I promise you though it does not have to be! True, your packing list might look a little different if you are heading out to an outdoor concert versus your own backyard. But by keeping a few items on hand and a few good recipes on file, packing up the perfect picnic could not be easier no matter where it takes you!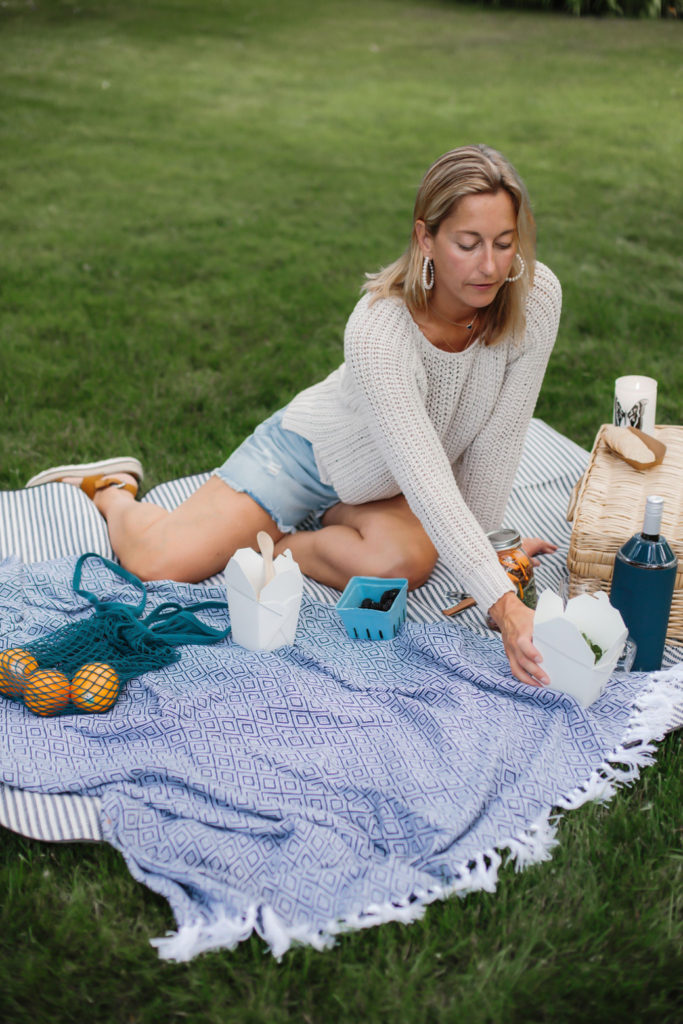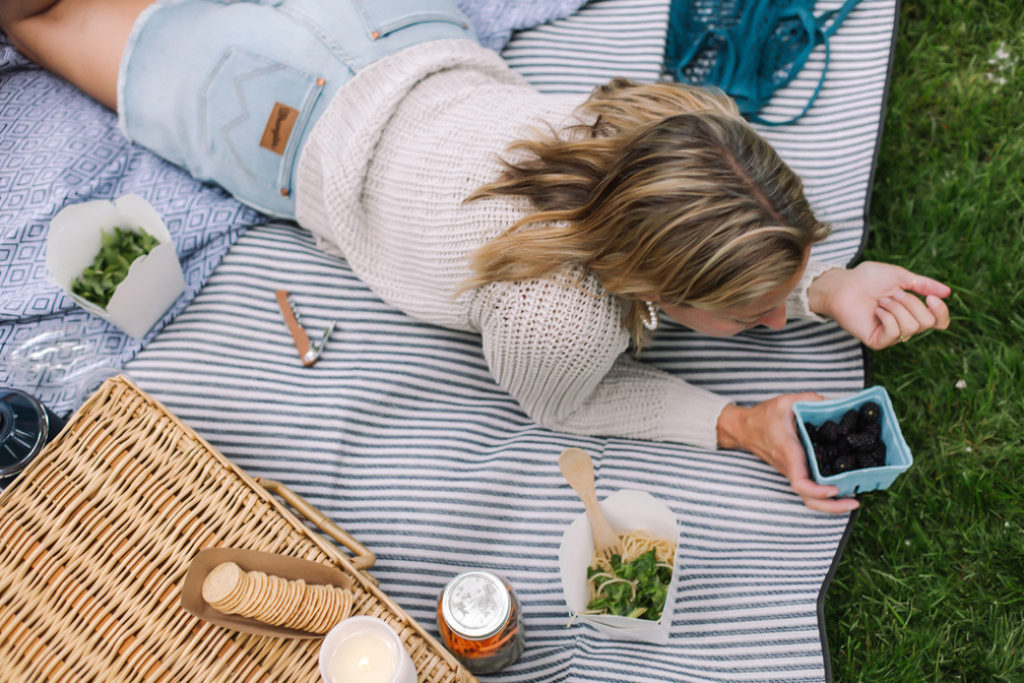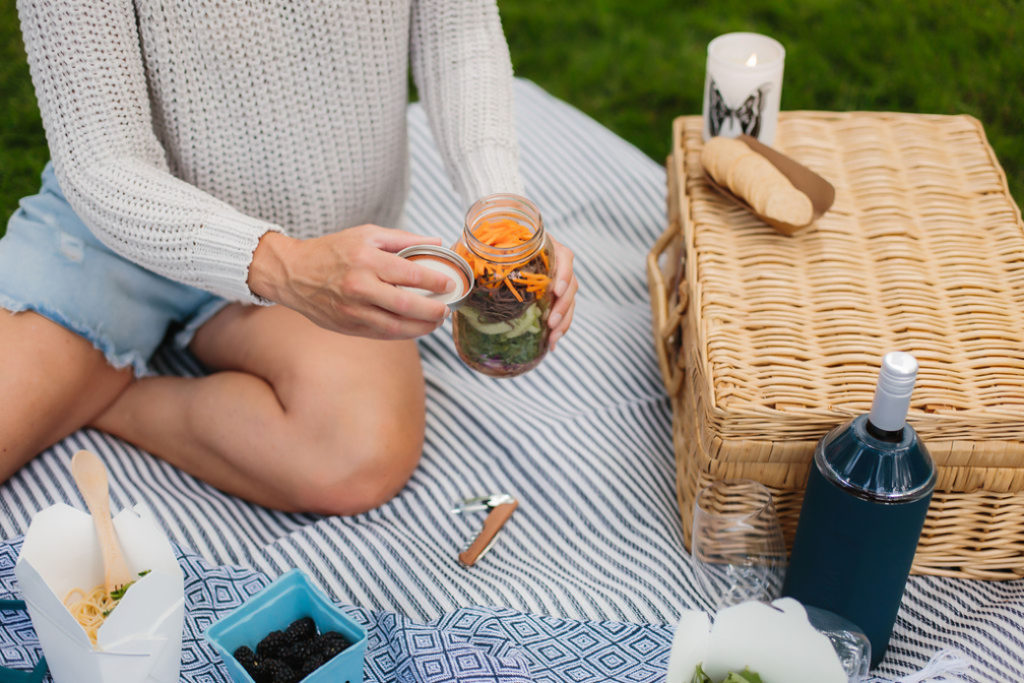 What Do You Need for a Picnic
For Transporting:
There is nothing I love more than our traditional vintage wicker picnic basket. It truly embodies the aesthetic of a summer picnic. However, it is cumbersome and heavy and I only like using it for our short distance picnics. In other words, it is not going to Ravinia Festival! For picnics outings that need a little more ease in transport, then a picnic basket backpack is the way to go! But because picnic totes usually house all the serving pieces with little additional room for food, I find having a large rectangular insulated cooler with comfortable handles a necessity as well!

For Serving:
The nice thing about picnic totes is that they come complete with everything you need for serving: plates, cutlery, wine glasses, bottle opener, napkins, salt and pepper and sometimes even a cheese board and knife! Yet there are times where I just feel like packing a cooler for our picnic and also do not want to deal with the hassle of lugging back dirty dishes to clean. Filling up take out containers with salads or pastas or mason jars with a "meal to go" are some ways to simplify your picnic (and clean-up!) even further. From here, just add an ice pack to your flat bottom cooler then fill it with the food and drink!

Speaking of drink, there are also two additional picnic add-ons that I love if you are just traveling with a cooler. One, are these Govino stemless shatterproof glasses. Easy to grip, they are a nice upgrade from drinking out of a solo cup! And for keeping your wine chilled, nothing works better than the Vinglace wine bottle insulator! In fact, this will keep your wine or champagne chilled for hours! Both are also great to have on hand for outdoor patio use as well!

For Set Up:
A picnic just isn't a picnic without a picnic blanket! So my picnic backpack comes with a water resistant bottom which I highly recommend. I also usually pack an additional throw blanket to layer over the picnic blanket as well. In terms of chairs and a picnic table, anything you can conveniently sling over your shoulder is the way to go! I love this portable picnic table that I have had for years! It sets up and breaks down so easily and of course, it is easy to transport!
For keeping the mosquitoes away, I have fallen in love with these candles. They do the job without the overwhelming smell of citronella. Finally, I pack up a few trash bags to use for clean-up!

For Eating:
I recently shared some of my favorite summer recipes here! Any and all of these would transport well for a picnic. Additionally, I love the concept of a meal to go packed in a Mason jar! But this recipe can easily be served in a salad bowl as well!
Soba Noodle Salad with Tahini Miso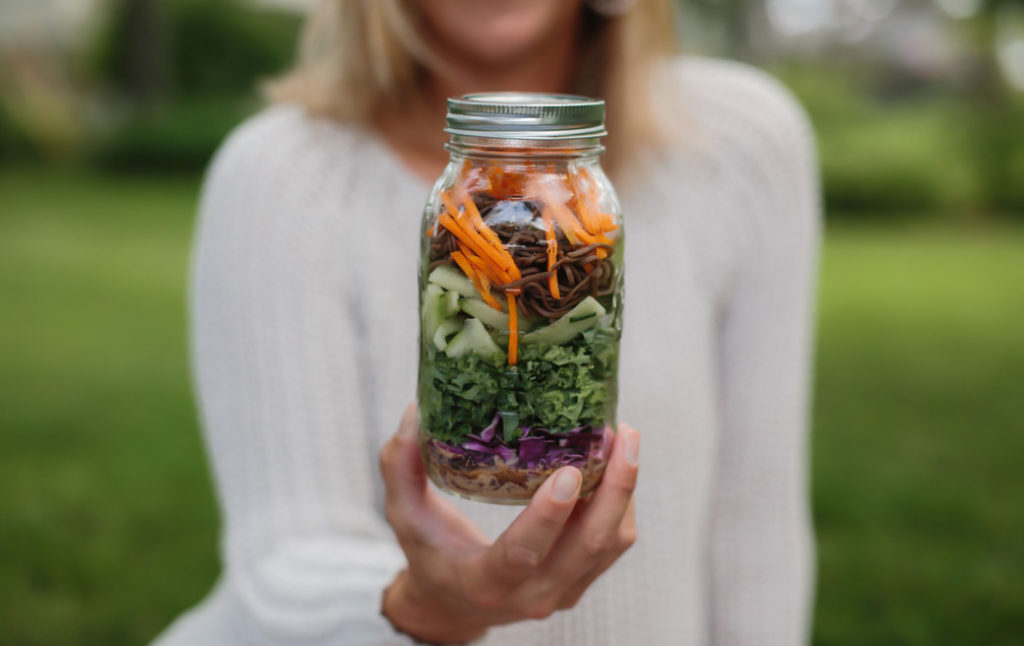 Ingredients:
8 ounces soba noodles
Sesame oil for drizzling
1/2 red cabbage thinly sliced or buy pre-sliced in a bag (4 cups total)
2 cups loosely packed, finely chopped kale
1 cup spiralized or thinly sliced English cucumber
2 carrots, sliced paper thin or by pre-shredded carrots in a bag (3/4 cup)
2 scallions, sliced
Dressing:
1/4 cup rice vinegar
1/4 cup tahini
1/4 cup water
2 tablespoons of miso paste
2 tablespoons of soy sauce
1 teaspoon of sesame oil
1/2 teaspoon minced ginger
Instructions:
Bring a large pot of water to a boil. Prepare the noodles according to the instructions on the package. Drain and rinse under cold water, running your fingers through them to separate them. Then toss with a drizzle of sesame oil.
For the dressing: in a small bowl, whisk together the rice vinegar, tahini, miso paste, soy sauce, sesame oil and ginger.
In a medium bowl, toss the cabbage with a few spoonfuls of the dressing.
Divide the remaining dressing among 4 (16-ounce) jars. Then layer with the cabbage, kale, cucumber, soba noodles, carrots and scallions. When ready to eat, mix up in mason jar with fork or pour the salad into a bowl so that the dressing drizzles out on top of the salad, using a spoon or spatula to scoop any that might stick to the bottom of the jar.
Source: Love and Lemons
You can also follow me on Facebook, Instagram and Pinterest 
Thanks for stopping by!
L, M