If there is one length I prefer when wearing a skirt or dress, it is usually the midi or maxi length. Rarely do I fall in love with a shorter style in either of these two options. Yet the moment I saw this short a-line skirt while scrolling on Everlane, I knew I needed to give it a try. Something about the cut, structure and color (haha!) drew me in! And when it arrived, I was thrilled with the fit! This a-line skirt is so fun for summer but it is absolutely a three season wardrobe staple that should be added to everyone's closet.
Summer A-Line Skirt Style
Even though I usually wear a maxi or midi skirt outfit, an a-line cut skirt is truly a more universally flattering fit! However, I think a good a-line cut is so hard to come by. I usually find the length to always come up short (literally and figuratively) or the material lacking quality structure! However, this skirt is a slam dunk for both! The a-line is cut in such a way that is grips the waist and thighs well and then flairs out just enough at the hemline. The length is short enough to be flattering but long enough to make sitting and bending down comfortable. The material has stretch and structure, helping to hold you in and smooth things over! It does sit high waisted so you have more options in pairing with tops-from crop top style to full length.
Another reason to fall in love with an a-line skirt is for its versatility. There are so many fun ways to wear and style it. And as an option for three seasons and an offering in three colors, you will for certain get a lot of wear from this one. For now, I am sharing how to style three summer outfits with this skirt!
Note: I am wearing a size 6 but probably could have sized down to a size 4.
Outfit 1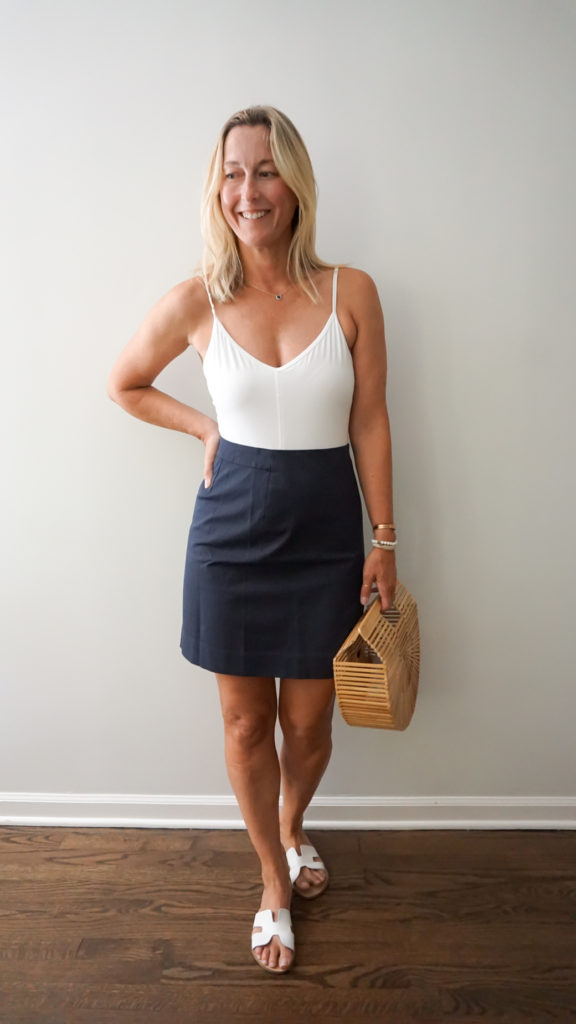 Bodysuit here // Skirt here // Bag here // Sandals here
If there is one message I try to consistently communicate is that style does not need to be fussy. Skirt outfits do not need to be complicated! I truly believe in filling your closet with great basics, quality cuts and versatile pieces. So another piece I just added to my own closet, is this bodysuit from Everlane.  I have been on the market for a great bodysuit for months! So many of them do not offer full coverage on the bottom, and in a bodysuit, I need that! This bodysuit is also more than just a base layer too. The super-soft material is double-lined for great coverage on top, making it flattering enough to wear on its own!
What I love about a bodysuit with a skirt, is that your look comes off sleek and polished! On a hot summer day, a bodysuit, skirt and summer slides is a great way to stay cool but look put together!
Outfit 2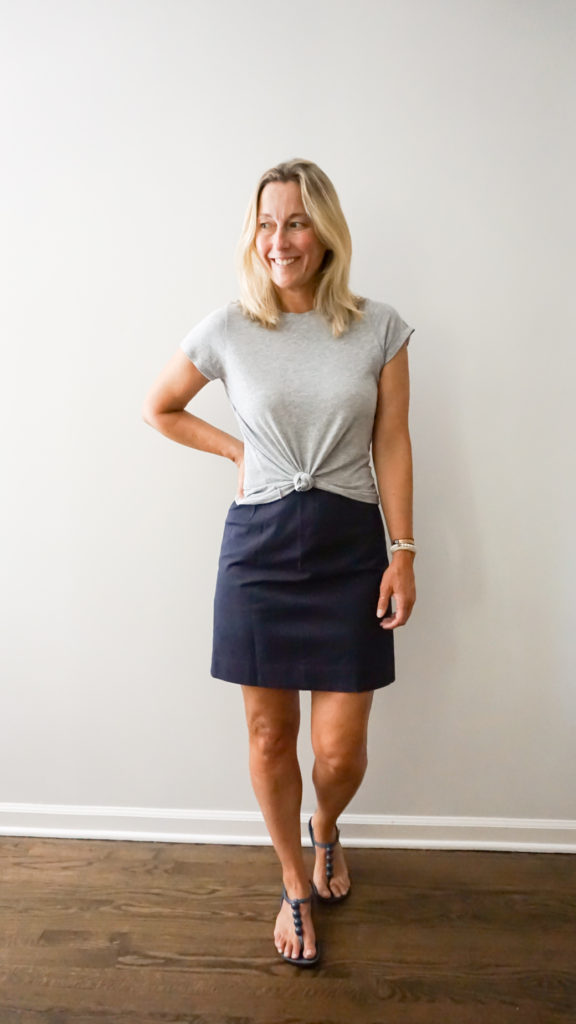 Tee here // Skirt here // Sandals here 
A basic tee takes you so far! Tuck it in, leave it out or knot it in the front or side! Here is another marriage of two great basics! I have introduced this line of tees before. I absolutely love them!  They are fitted but still roomy. Soft but not tissue thin. And even for someone like me who is long waisted, the length is perfect for tucking in or leaving out!
What I love about a tee and skirt is that the look is effortless! You can grab both pieces from your closet without a thought!
Outfit 3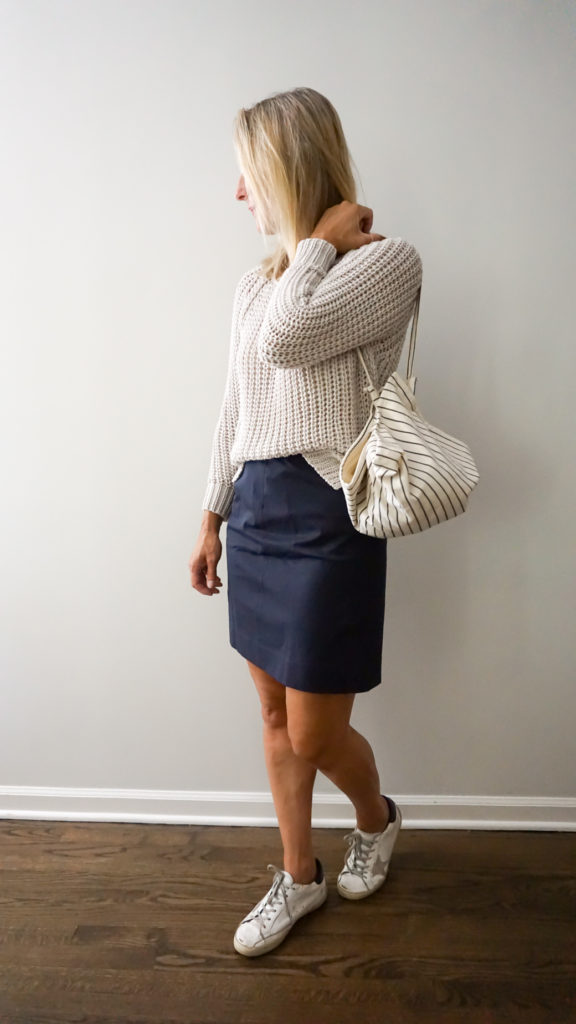 Sweater sold out but similar here // Skirt here // Bag here // Sneakers here 
I could never share a styled look without incorporating two of my favorite wardrobe items: sneakers and a summer knit! On cooler summer days or for running around town, this is one of my favorite looks! A summer knit and sneakers worn with a skirt is a great seasonal transition look too! A puff sleeves sweatshirt would work well here as well!
What I love about a skirt with sneakers and a sweater is that it evokes street style! When it is time to go to the city or pack for travel, this is what I am going with!
You can also follow me on Facebook, Instagram and Pinterest 
Thanks for stopping by!
L, M