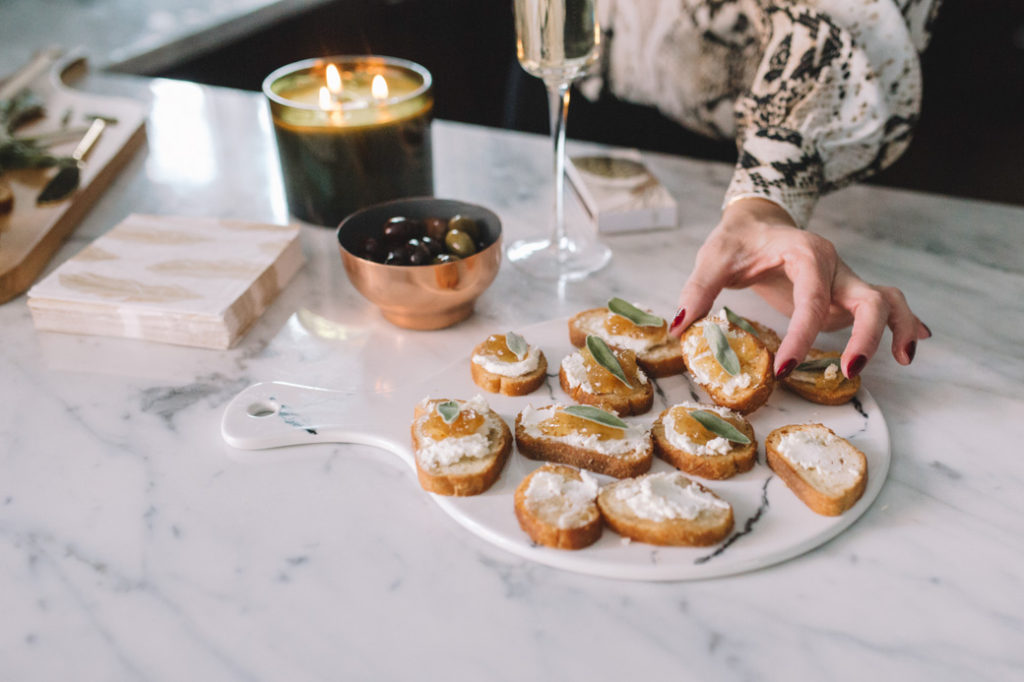 I don't know about you but I have a hard time coming up with appetizers to have on hand outside the summer season.  During the winter, appetizers seem to fall into two camps: cheese & crackers or hot artichoke dip! Not that there is anything wrong with either of those believe me! But I recently was at my local cheese store and saw a whole shelf dedicated to different jellies and jams. I then remembered these can work great into appetizers this time of year!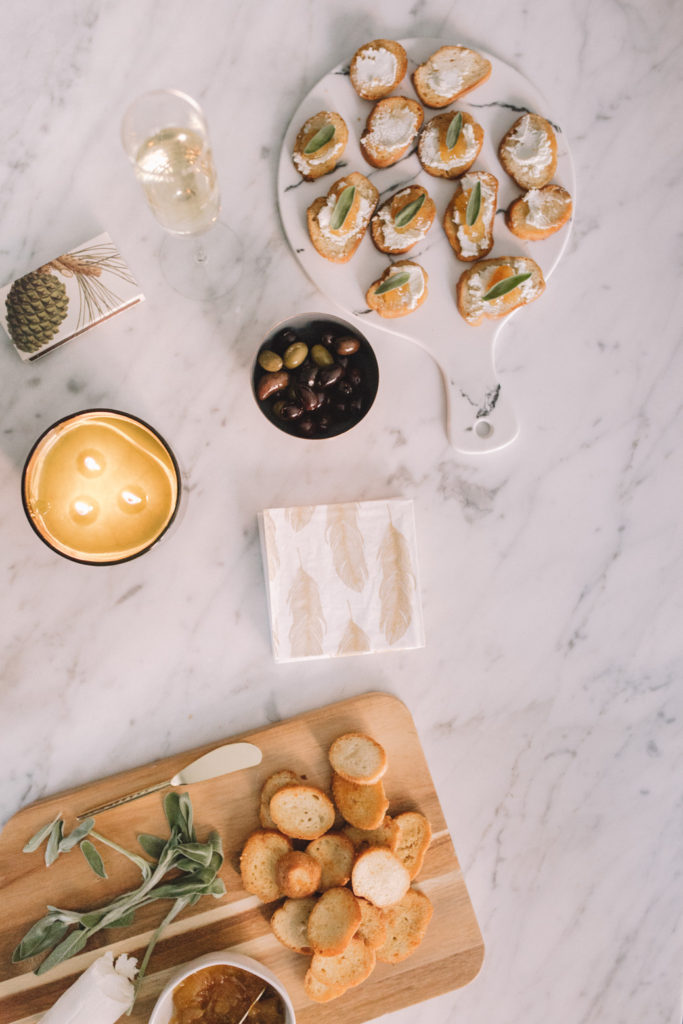 I seem to gravitate towards jewel tones right now.  They play so well into a winter landscape. No wonder jellies then look so festive and appropriate served up during the holiday season!  There are also so many delicious jelly combinations now beyond the traditional flavors we normally think of. Jellies with added cayenne, jalapeno or ginger, or flavored apricot and orange jelly are all great options. I have a taste for fig this time of year and ended up using that one for this appetizer.
An Easy Appetizer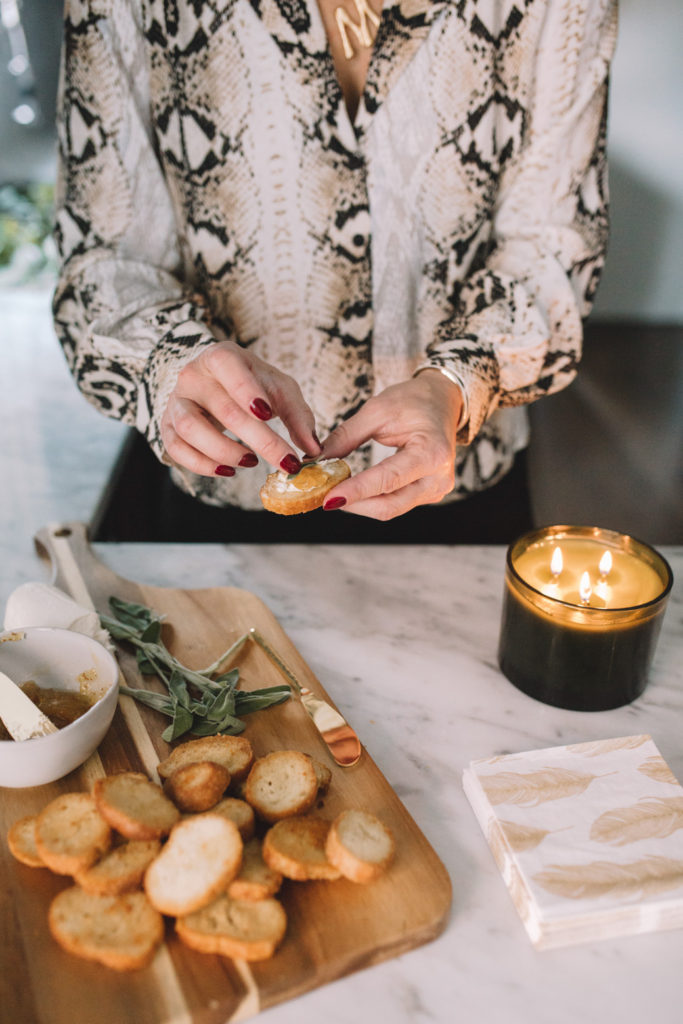 Ingredients:
1 sweet baguette
1/3 cup olive oil
Kosher salt
20 sage leaves
4 ounces goat cheese
1/3 cup fig jam
Preparation:
Preheat oven to 400°F . Cut the baguette in about 1/2-inch-thick slices and place on a baking sheet. Using 1 tablespoon of the olive oil, lightly brush each slice. Sprinkle with salt and bake until lightly toasted and crisp, about 8 minutes. Let cool.
Meanwhile, line a plate with paper towels and set aside. Heat the remaining olive oil in a small frying pan over medium-low heat. When the oil shimmers, gently place 2 to 3 sage leaves at a time into the hot oil until they darken in color and any bubbling subsides. Immediately remove the leaves with tongs or a slotted spoon and transfer to the paper-towel-lined plate. Repeat with the remaining sage leaves. Set aside.
Gently spread 1 teaspoon of the goat cheese on each crostini, top with a heaping 1/2 teaspoon of the fig jam, and garnish with a fried sage leaf.
Tip:
To save time, buy pre-made crostini usually found in the bakery section at your grocery store. Melba round crackers work well too.
Let goat cheese get to room temperature to make for easier spreading.
Not a fan of sage? Substitute with basil leaves.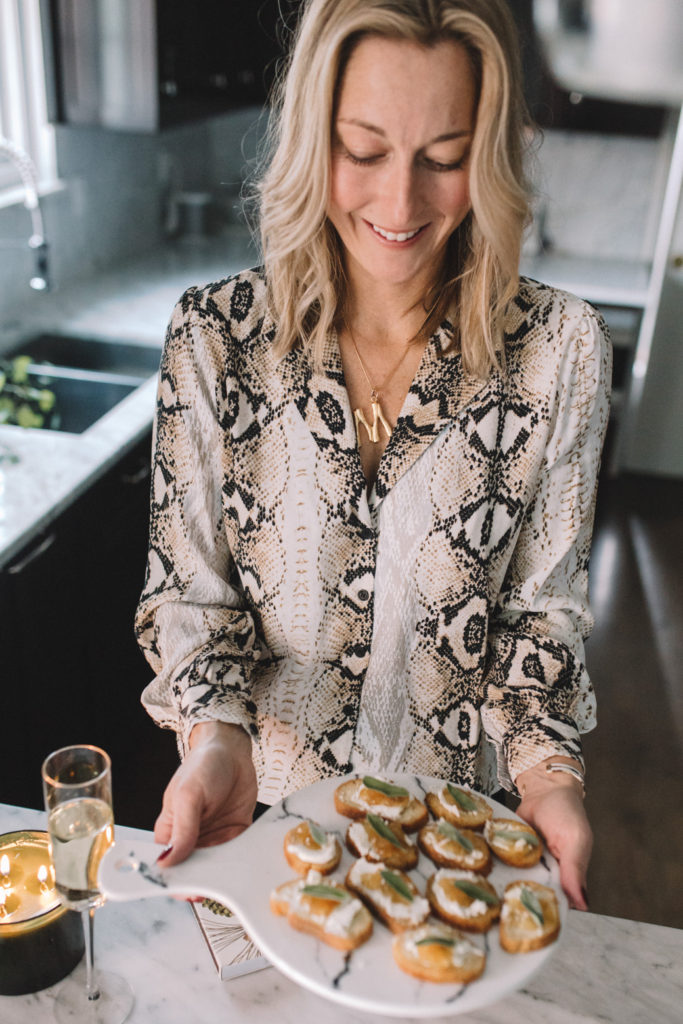 Items Featured in this Post:

Stay tuned! Coming to your inbox this Wednesday: The Ultimate Holiday Gift Guide for the gift giving season!
Photos by Jules Kennedy
You can also follow me on Facebook, Instagram and Pinterest 
Thanks for stopping by!
L, M