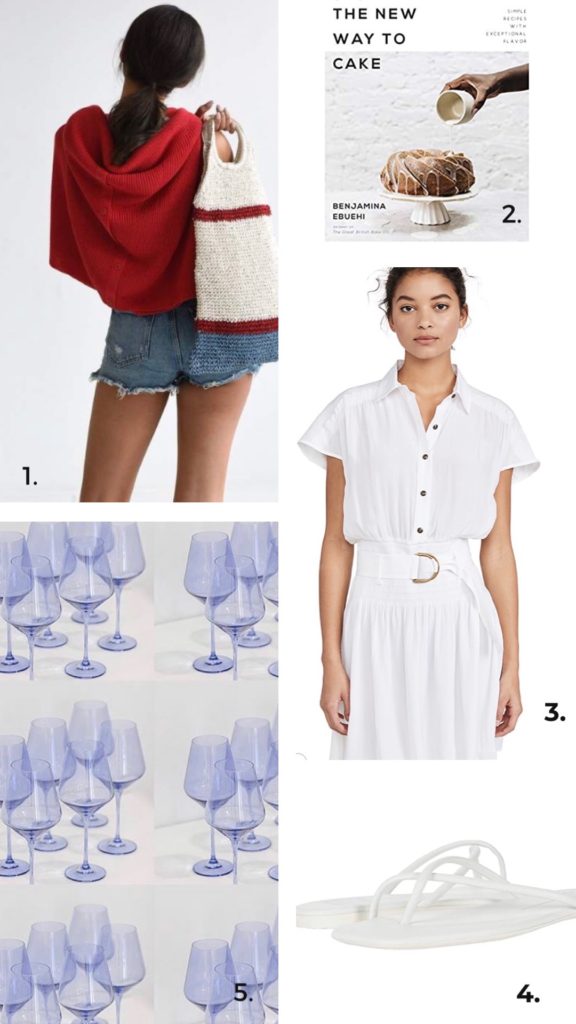 July Five Favorites
Let's start the month off with a Five Favorites Series! What you can also expect on the blog in July is another style board for the month as well as some backyard entertaining ideas complete with delicious and attainable recipes!
I have loved this company for some time. Their fabric wrapped candles always make wonderful hostess gifts! And lately I have been really into their beach bags. Beautiful woven knits and well structured woven totes as well as a nice assortment of french market bags make up their collection. And as part of a 4th of July promotion, their website is offering 20 percent off with code: FIREWORK20. 
Calling all bakers! I recently ordered this cookbook and just baked my first recipe from it. Oh my goodness! Yum! I love that Benjamina explores ingredient and flavor combinations in a way that you might not consider but that end up working out flawlessly well!
Shopbop just added 1000 new pieces to their sale! Tons of denim, cute summer dresses and fun tops! It is definitely worth checking out if you have holes to fill in your wardrobe! I love this dress here  and this blouse here!
I have been on the hunt for square-toed sandals this past week. Looks like everyone else has too! They are not easy to come by! But I did discover these and they are on sale for under $40 and come in an assortment of colors. I also have my eye on these wrap ones which I think look so great with denim!
I have been playing around with table settings lately and I really want to incorporate some colored glassware into the mix. My eye is solely on this handblown glass collection from Stephanie Hall. Named after her grandmother who always used colored glassware at her family Sunday dinners, Estelle Colored Glass is a collection of beautiful heirloom pieces offered in the prettiest assortment of pastel and jewel toned colors!
You can also follow me on Facebook, Instagram and Pinterest 
Thanks for stopping by!
L, M