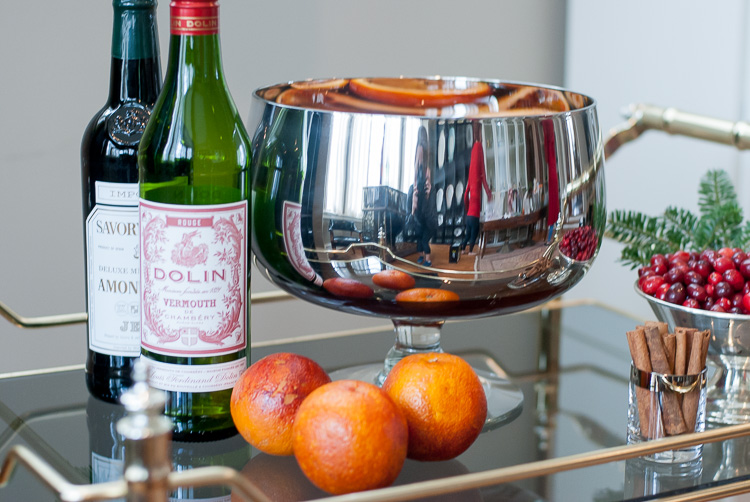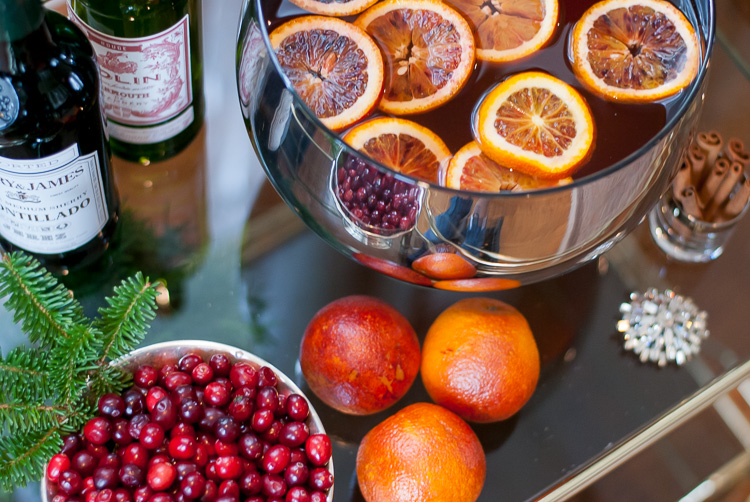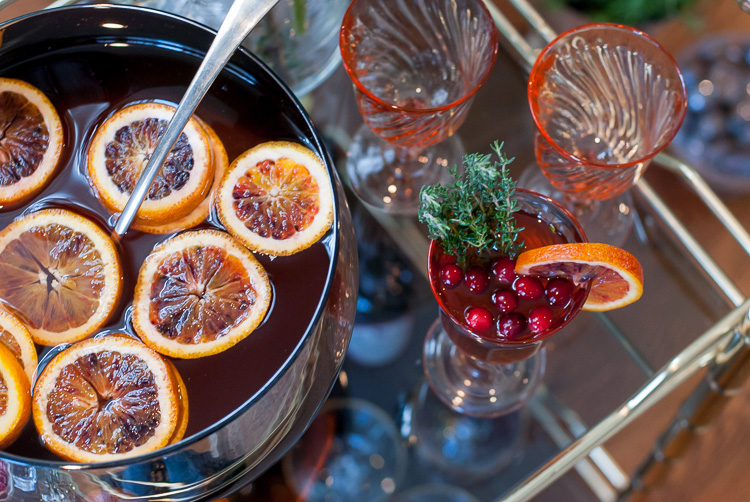 Holiday Punch Recipe
We often don't think of serving punch anymore as a way to quench the thirst of a crowd. However we should! Punch is a festive (and economical) way to help you entertain, especially over the holiday season. I recently came across this recipe in Bon Appetit magazine (or see below) and could not wait to try it!
The assembly is so easy while the preparation of it ads seasonal aroma to your home! You can use either a dispenser or punch bowl for serving, although truthfully I do not own either. I jumped at the chance though to utilize and work with Kendell DeBoom and Jane McClenahan of the Festive Frog for my barware needs. The Festive Frog has an extensive and stylish collection of wares that goes beyond your typical idea of tabletop rentals. From vintage to mid-century (my favorite!) to modern, their catalog of offerings have been thoughtfully curated for years and continues to grow! I was able to find a punch bowl that worked (ok matched!) glassware I already owned but then I fell in love with these blush ginger glasses and had to use them!
This simple recipe ended up turning into a gorgeous presentation.
As easy as it is to assemble and serve this punch, entertaining with style usually involves a whole lot more! Anytime party planning or event styling enters my thoughts, it immediately leads me to the uber talented Ellie Nottoli of elliestyled. Her creative ingenuity in planning, styling and hosting coupled with her passion for doing it makes working with her a dream! Her boho-luxe style and whimsical elegance brings a fresh perspective to your entertaining needs whether it be on a large scale or for a more intimate gathering. And her added touch that can sometimes just mean the simple placement of an antique broach or a touch of greenery to a bowl of cranberries is just the thing needed to bring it all together and make it all well styled!
Ingredients
Spiced Syrup
1⅓ cups raw sugar
3 tablespoons allspice berries, cracked
2 tablespoons whole cloves
2 3-inch cinnamon sticks
Assembly
1 750 ml bottle amontillado sherry (I used Savoy & James)
1 750 ml bottle dry vermouth (I used Dolin)
1½ cups plus 1 tablespoon cranberry juice cocktail
1½ cups plus 1 tablespoon fresh lemon juice (I used organic lemon water from Lemonesse)
Blood orange or navel orange wheels, fir sprigs (optional), cranberries, and cinnamon sticks (for serving)
Preparation
Spiced Syrup
Bring raw sugar, allspice, cloves, cinnamon, and 1⅓ cups water to a simmer in a small saucepan over medium heat. Remove from heat and let spices steep 10 minutes. Strain through a fine-mesh sieve (I used a mesh strainer and it was fine!) into a small measuring glass or bowl (you'll have 1½–1¾ cups syrup); let syrup cool. Cover and chill until cold, at least 30 minutes.
Do Ahead: Syrup can be made 1 month ahead. Keep chilled.
Assembly
Stir spiced syrup, sherry, vermouth, cranberry juice, and lemon juice in a large pot or bowl.
If serving from a dispenser with a spigot, line sides at the bottom with a row of orange wheels and fill one-quarter full with crushed ice to hold orange wheels against sides. Create another layer of orange wheels and add just enough ice to hold them against sides. Repeat until dispenser is full. Pour punch over ice and top with fir sprigs, if desired.
Serve punch in ice-filled glasses garnished with cranberries, cinnamon sticks, and orange wheels.
If serving in a punch bowl, add 4 cups ice cubes to punch and stir until very cold, about 1 minute. Remove ice with a slotted spoon. Ladle into ice-filled glasses garnished with cranberries, cinnamon sticks, and orange wheels.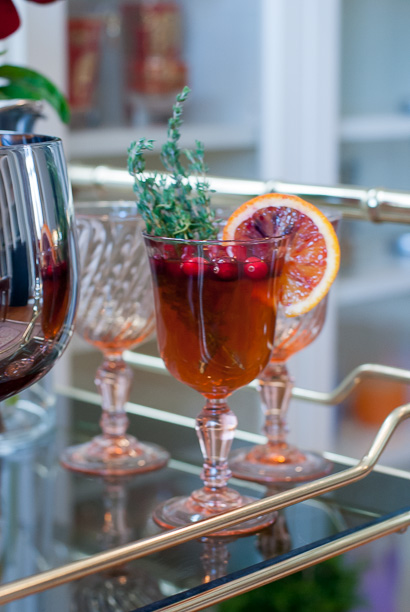 Thanks for stopping by!
L, M