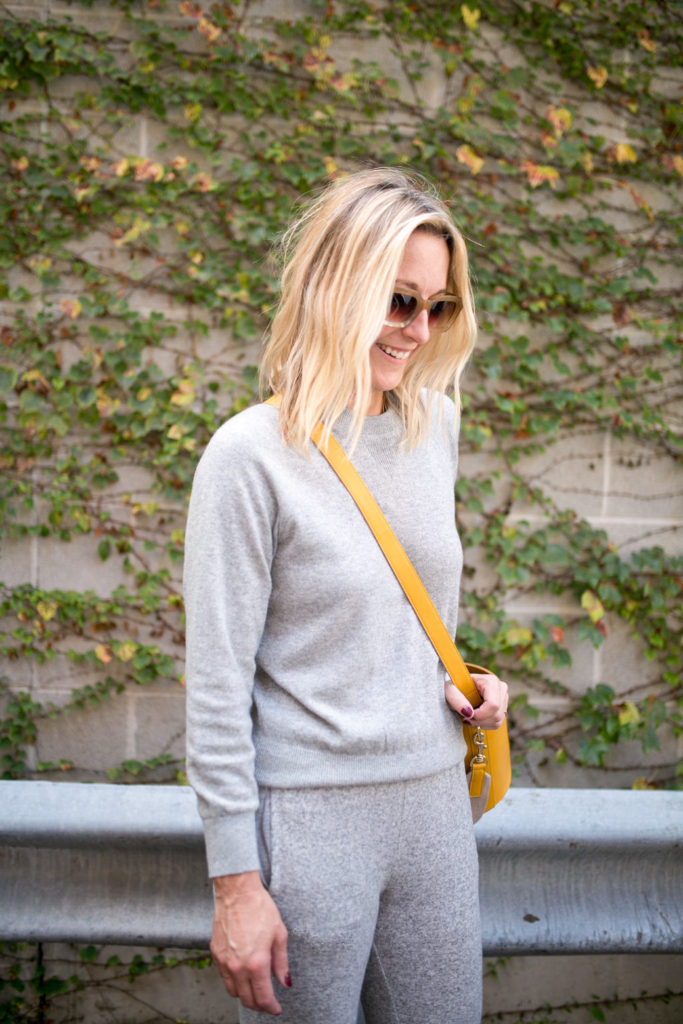 When you are traveling, running around town doing errands or spending a cozy day indoors, dressing comfortably is a priority. The concept of "athleisure", with brands like Lululemon and Athleta, has certainly made it easier for us to take our day to day wear into the comfort zone. Another word of the moment for dressing comfortably is "loungewear". In fact loungewear is so popular right now, most on-line retailers will have this as a clothing department in their drop down menus! This is where I find myself shopping!
Yet even in our most comfortable clothes, it always feels good to be put together. When dressing for comfort, I aim to be in clothes that feel tactically good; clothes that are loose on me and have movement. So how does this translate into still staying stylish? I have a couple of tips for how to look stylish while staying comfortable.
How to Stay Stylish While Staying Comfortable
Wear luxurious Fabrics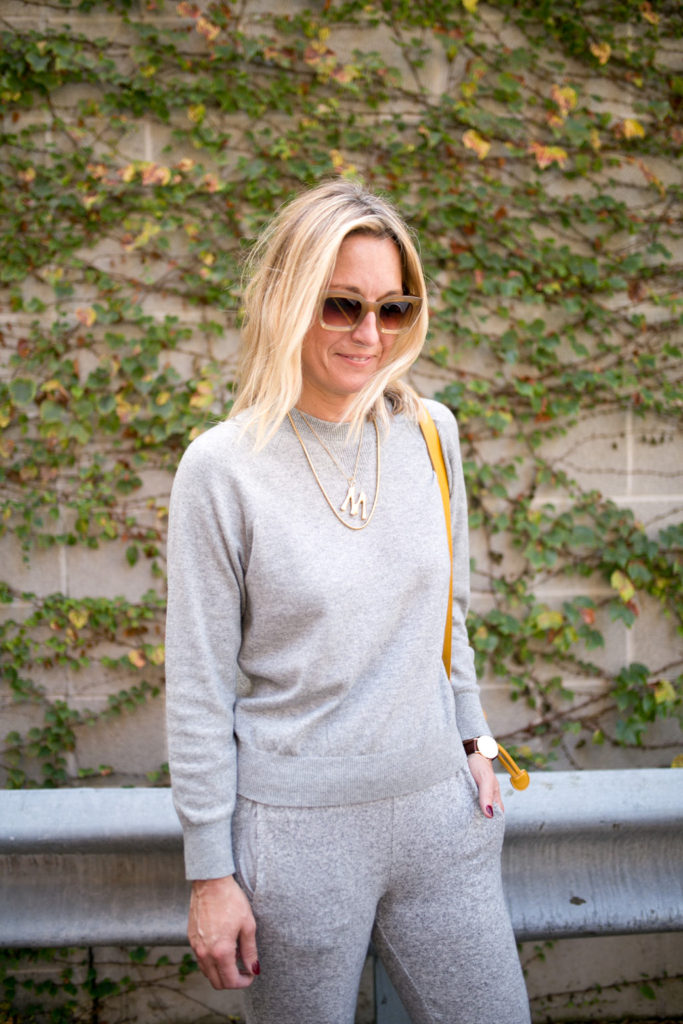 We talked about cashmere in last week's post here. The fact that cashmere is so soft and luxurious makes it an obvious choice for style and comfort. And we all know a cashmere piece gives an instant style upgrade to just about any outfit. The same holds true in even a loungewear look. I love wearing Everlane's Cashmere Shrunken Sweatshirt as a loungewear top. I love that the style is a little more sporty yet I still feel put together wearing it.  Of course it would look great with a pair of denim but in sticking with a loungewear look, I paired it with these fleece joggers. These joggers are not your typical fleece. They feel just as nice as cashmere. Lightweight, cozy and very breathable. I love the cinched leg and button details at the bottom. Note: I sized up in the sweatshirt and I am wearing a size medium. I sized down in the joggers and I am wearing an XS.
Dress in Monochromatic Pieces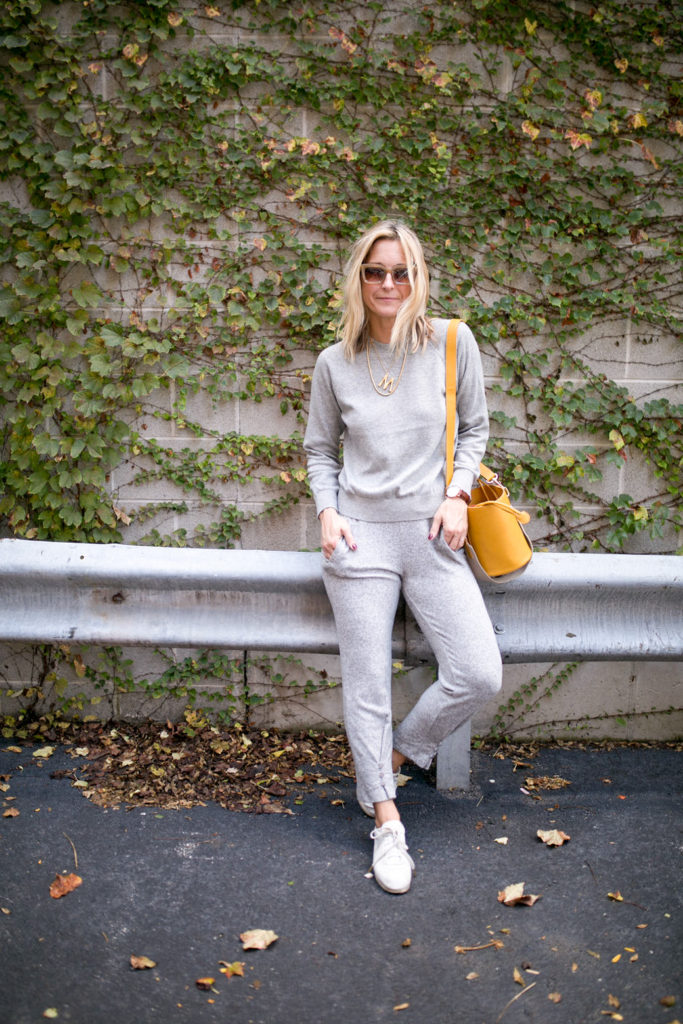 I don't know why it is but something about dressing in monochromatic pieces makes an outfit look really put together. I think the same holds especially true for a loungewear look.  Stick to neutrals such as greys, whites, blacks and warm beiges. (I just had a flashback writing this. Remember when Juicy Couture sets in bright colors were all the rage!? I still have my Juicy's . . .)
Add a classic piece
Adding a tailored or classic item of clothing can also be an instant style upgrade to your favorite loungewear. I have a slight obsession with trench coats so I love throwing this one on over this look! A blazer or tailored plaid coat would be fun too!
Choose street style sneakers over athletic ones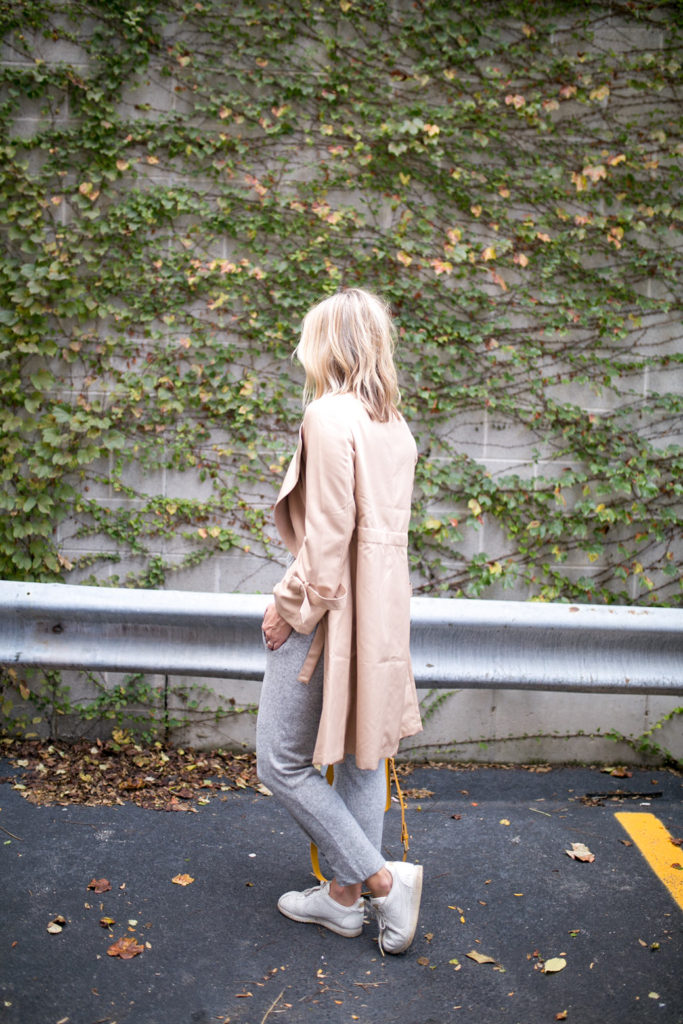 I am all about sneakers and love a street style sneaker with just about any look. How do you define a street style sneakers? Well, any sneaker that is not appropriate for working out. Adidas, Golden Goose, Tretorn and the Gola line at J Crew are all great examples. The more retro looking the better!
When it comes to loungewear, these retailers always have great options to choose from. I linked their loungewear departments below:
Nordstrom (especially the Barefoot Dreams line)
Shop the Products:

You can also follow me on Facebook, Instagram and Pinterest 
Thanks for stopping by!
L, M