#thenowhiterule
So why is no white after Labor Day a fashion rule anyway? What is the origin of this rule? Apparently, the rule goes back to the early 1900's when there were strict guidelines regarding what was appropriate to wear as the seasons changed. Moreover, white became an on-trend social statement for summertime fashion when white clothes were bought among the wealthy classes to stay cool under the summer sun.  Come September, white clothing was stowed away in favor of heavier and darker city attire. To wear white beyond the summer months was simply considered to be out of fashion. Years later, this rule has stayed embedded in our culture, yet some of the no white after Labor Day barriers are being broken down.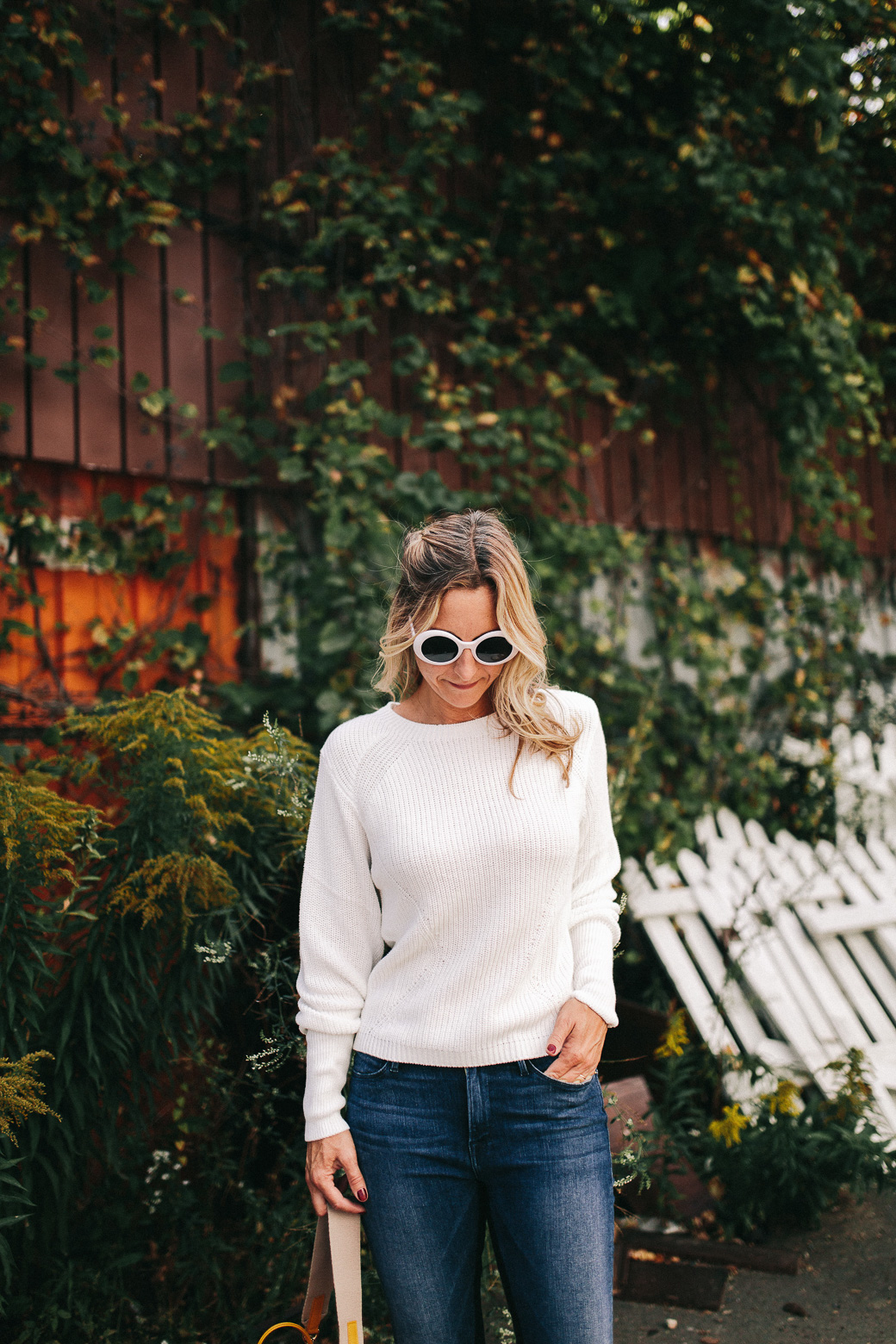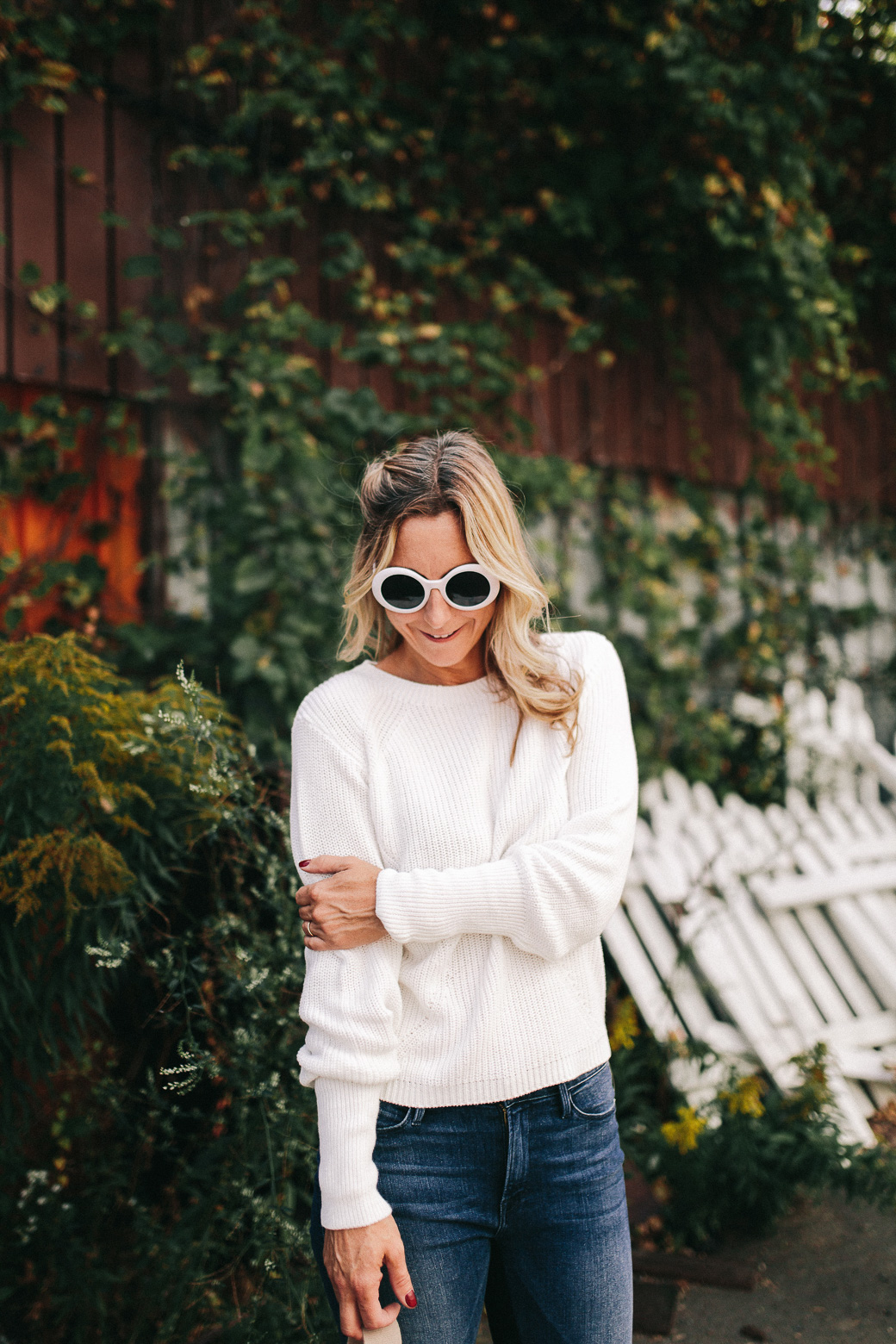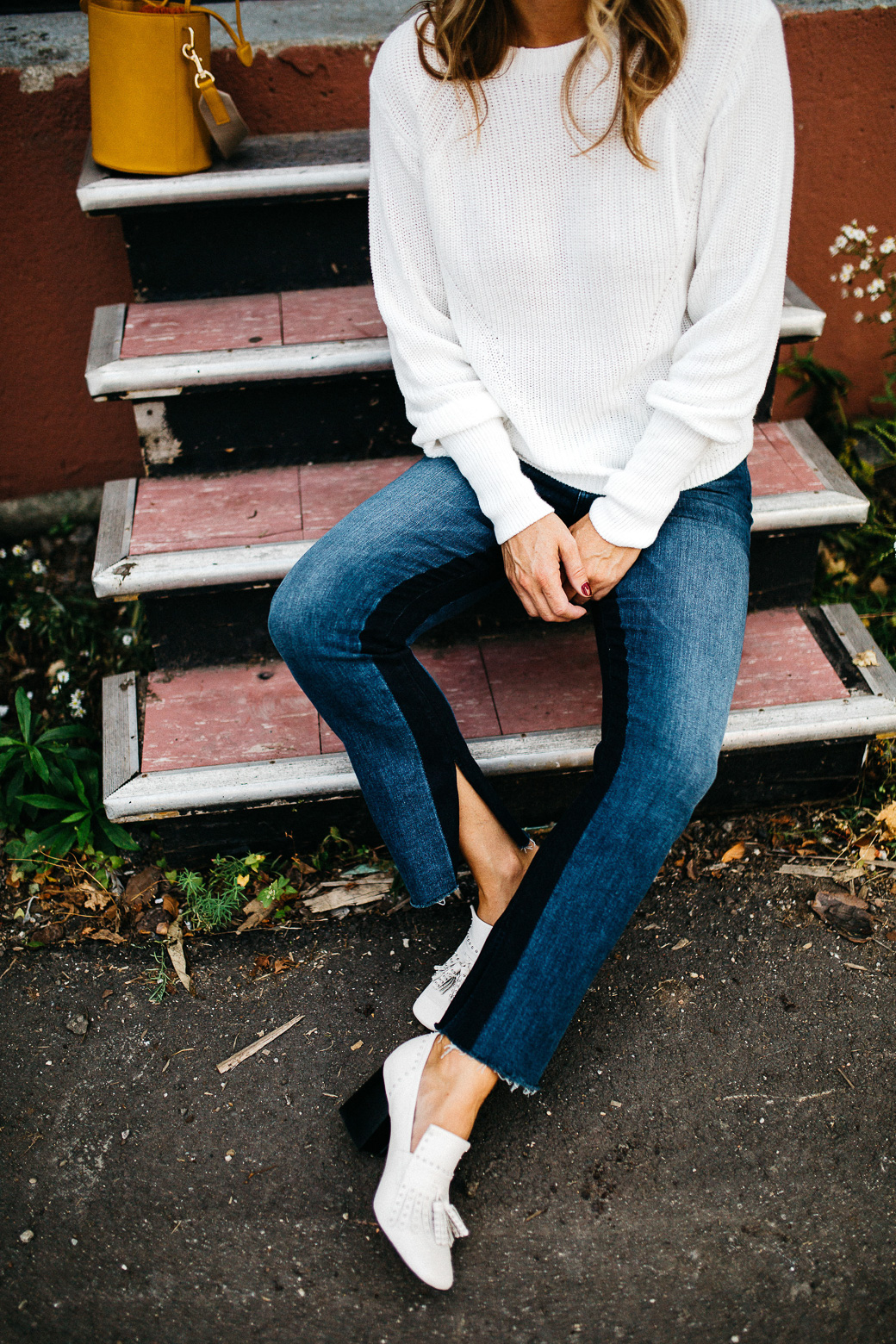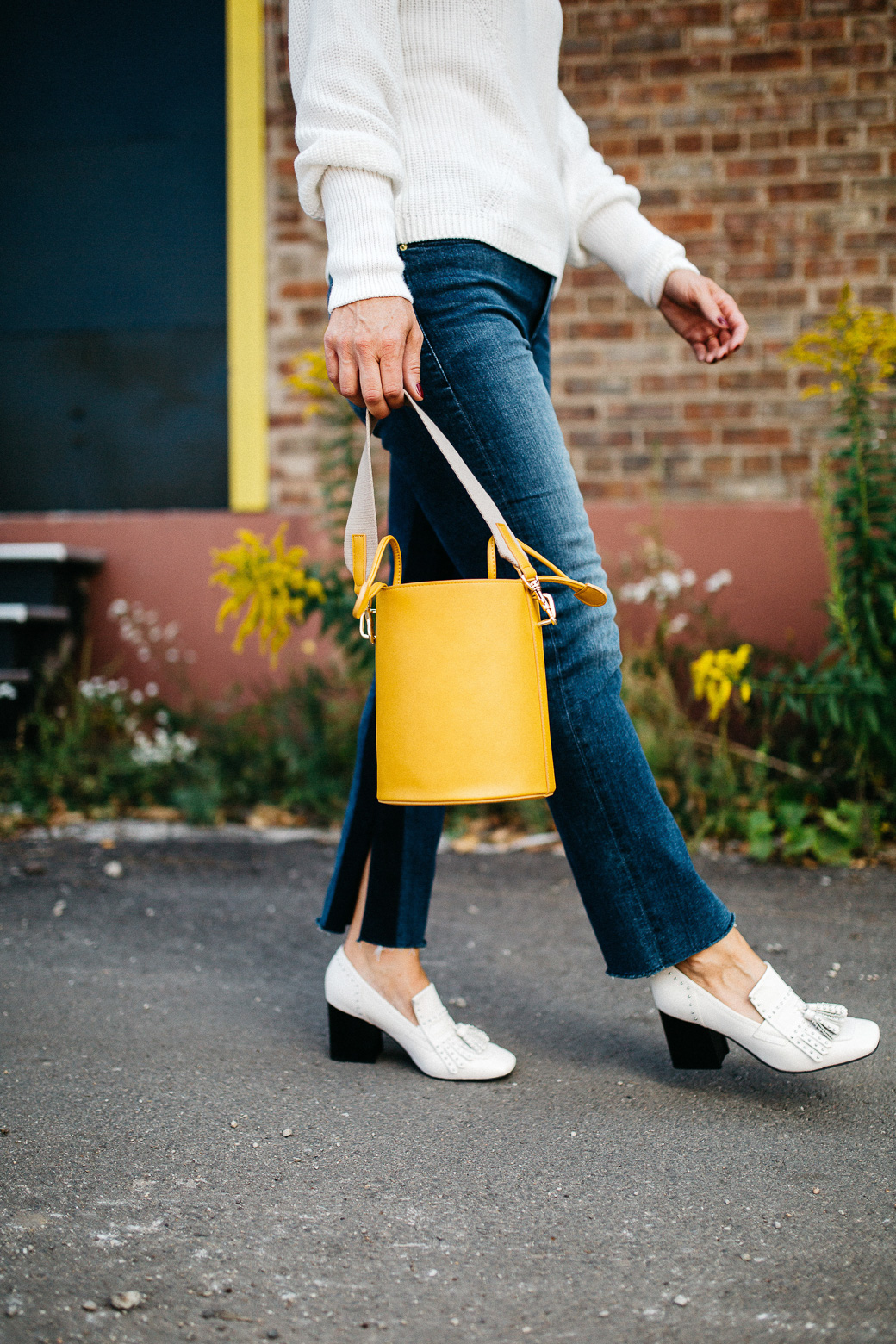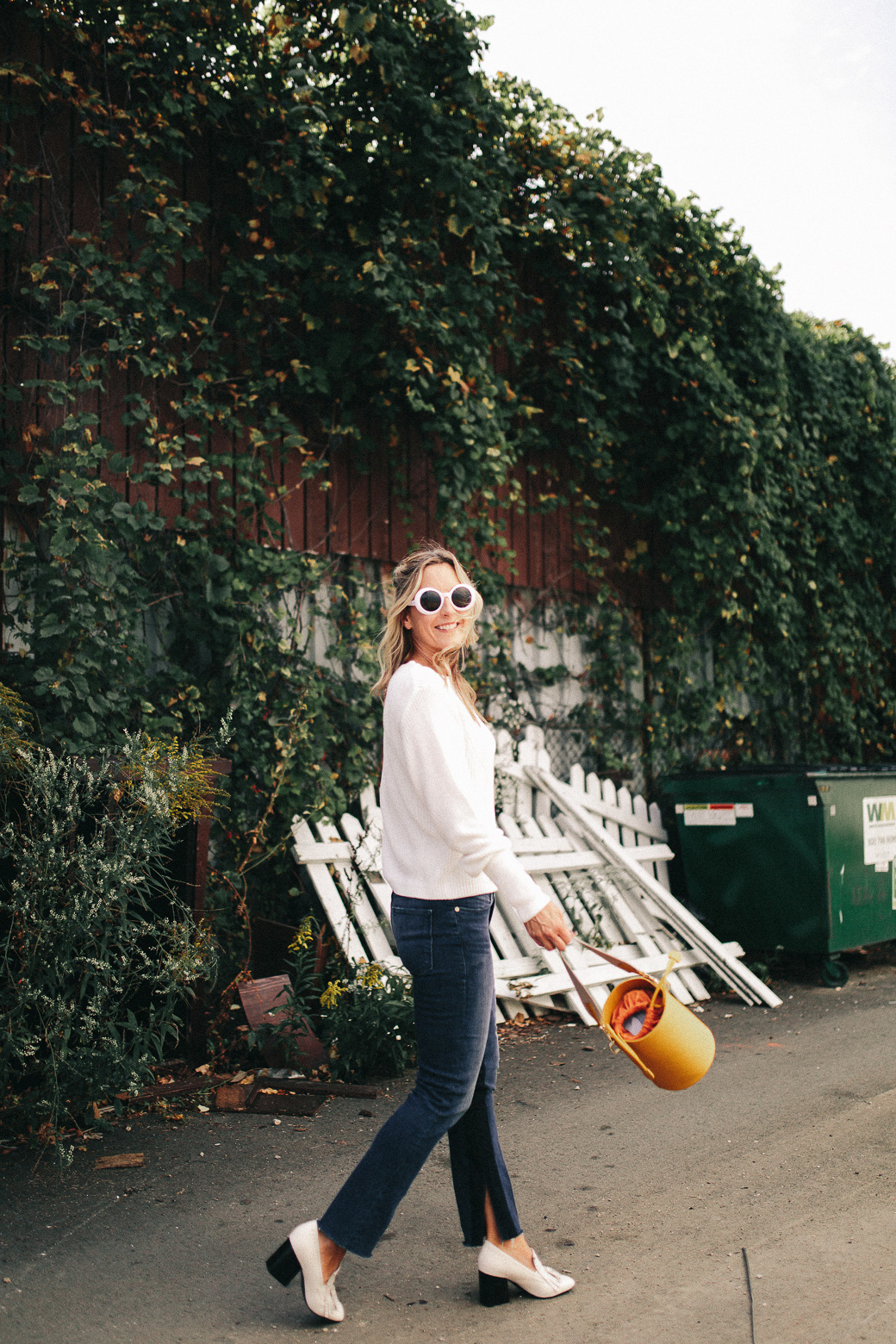 White Sweater (here and only $25!) // White Sunglasses (here) // Denim (here and currently 25% off) Bucket Bag (here) // White Shoes (here and also available in black)

How To Wear White After Labor Day:
#saynotothiswhite
Let me start off by saying that I am huge advocate of wearing white after Labor Day. So, fashion designers are breaking down the no white after Labor Day barriers and now more than ever, incorporating white into your fall and winter wardrobe is becoming more of a norm. With that said though, there are some rules that still should apply for what not to wear in white after Labor Day. Avoid the following:
White Linen-pants seem obvious but avoid white linen button downs as well
Sandals or Open Toed Shoes in White-even when vacationing to warmer places such as LA or Arizona I adhere to this rule post-summer season
White Knits- meaning loose knit sweaters and tops
White Lace-with the exception of a well structured top
#sayyestothiswhite
So then how should white be worn post Labor Day?  Here are the items and concepts I focus on when shopping white after Labor Day:
Texture. Go for well textured and heavier white pieces. Chunky knits, wool blends and thicker knits are a lot more practical then gauzy whites post-summer season.
Off-White. Stark white is fine in a basic layer or even in some accessories but your main white pieces should be creamier. In the case of a stark white blouse or denim, I like to introduce a warm or jewel tone into the mix.
Accessorize with Whites. White boots and shoes are a huge trend this fall. I love the idea of white boots with a pair of distressed denim and velvet button down. White pumps look great with a monochromatic outfit in black or navy.
#shoppingwhiteforfall
When shopping this fall and winter do not doubt about incorporating white into your wardrobe. Now more than ever it is trending toward the norm. Finally, I will leave you with this: Coco Chanel. The rule breaking and fashion forward iconic designer integrated white into her designs and fashion lines all year round.
Shop White Sweaters

White Shoes

Shop White Coats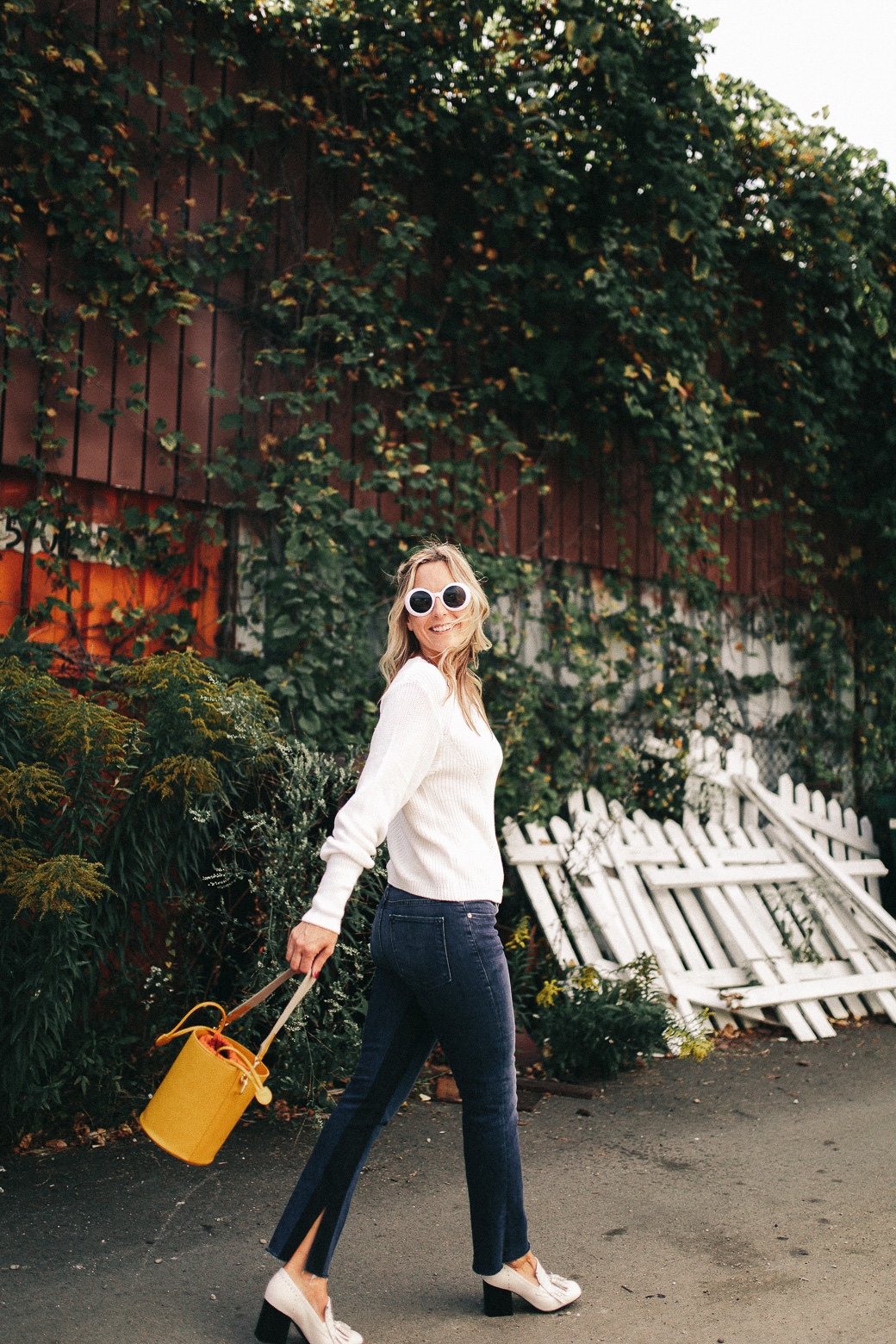 Photos by Jules Kennedy
Never Without Navy is also on Facebook, Instagram and Pinterest 
Thanks for stopping by!
L, M
SaveSave
SaveSave
SaveSave
SaveSave
SaveSave
SaveSave
SaveSave
SaveSave
SaveSave