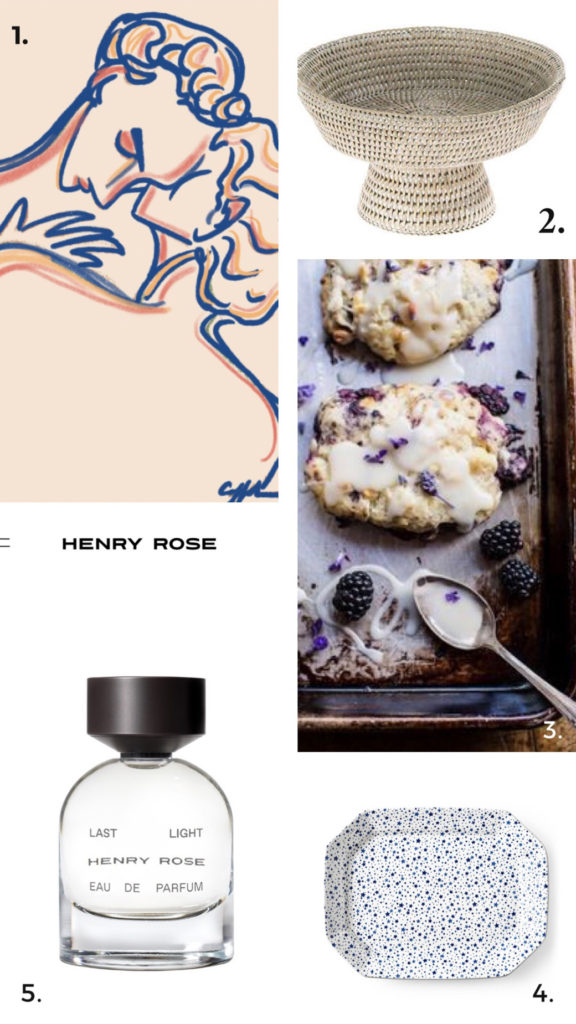 Series: Five Favorites May 2019
I am slowly putting the finishing touches on my bathroom and closet after a recent rehab. I was looking for something to hang over a built-in and recently discovered the work of illustrator, Carly Kuhn. Her aesthetic is graceful yet alluring and I have fallen in love with this piece. She is also so fun to follow on Instagram so make sure to catch her there as well!
I love a good Amazon find! This basket is such a pretty way to display all your summer fruit. It would also serve well in a living room or dining room displaying decorative objects.  It comes in two washes with a very friendly price tag.

Blackberries are almost in peak season and it has me itching to do some baking! I recently pinned this recipe for blackberry scones. It is the perfect Farmer's Market haul recipe! A glaze omitting the lavender is a perfectly acceptable adaptation to this treat as well!
I love seeing the red, white and blue take center stage in stores and on-line now. It might just be my favorite holiday to shop for! If you are looking for some festive inspiration for the quickly approaching holiday, I am rounding up some of my favorite items below:

Michelle Pfeiffer just quietly launched a perfume line that is getting a lot of buzz. The mission behind the line was to create a safer, 100 percent transparent scent that is better for you to wear. The truth of the matter is, is that most perfumes are filled with unregulated concoctions designed to protect trade secrets. Coming up with one that provide high quality ingredients with out compromising on a beautiful scent was no easy task and I love the story behind the launch! I just ordered this discovery set to help select one for myself!
You can also follow me on Facebook, Instagram and Pinterest 
Thanks for stopping by!
L, M