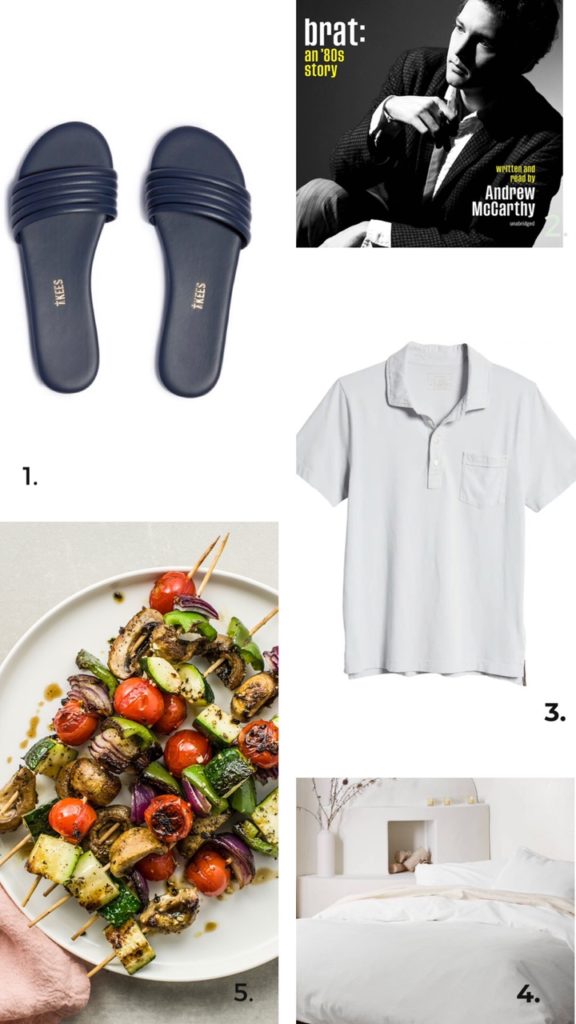 Series: Five Favorites June 2021
I am having a major shoe crush over these newly released navy slides from Tkees. I love the fact that they work for the pool or beach but absolutely elevate your everyday summer look as well. They come with a wider width strap as well here.
I absolutely loved Andrew McCarthy's memoir. As a child of the 80's who grew up on John Hughes movies and with the allure of the "brat pack" I was instantly attracted to this book. But this book is so much more then that. Andrew is a fantastic writer (and currently a highly acclaimed travel writer) that writes honestly and rawly about becoming an actor (in a house full of athletic older brothers!) and all the trials, tribulations and opportunities (and plenty of "missed" ones) that come with it. In a world where social media is widely used to further career/open doors in acting, it was so refreshing to read the about the hustle and grit of Hollywood during this time! I love his writing so much that I just ordered his travel memoir here.
This might have been helpful for Father's Day (lol!) but I finally found a "modern" polo shirt that my husband likes. This is such a win in our household that it is worth a mention here! It is hard to find him a polo that is comfortable, updated and fits well. So many cuts now are too slim yet the traditional polos are often ill fitted. This "Pensacola" style is absolutely perfect and I plan to but him more colors as they become available!
Last month I had the pleasure of staying in my girlfriend's home in Rosemary Beach. One of the many things I was blown away by were my bedroom linens, especially the duvet  I slept under. When she told me it was from Target I couldn't believe it.  I immediately ordered this Casaluna duvet cover for my own guest room at home.  It is just so luxurious! Comes in other colors as well.
I hope to finally make it to my Farmer's Market this week and I cannot wait to stock up on fresh veggies for the holiday weekend. Kabobs are always a good idea in the summer and this is an easy and delicious way to use up all those vegetables! You can grill them but this recipe shows that you can easily cook them in the oven as well! Don't want to skewer your kabobs? This stainless steel grid (on sale!) is a great way to get all those veggies grilled.
You can also follow me on Facebook, Instagram and Pinterest 
Thanks for stopping by!
L, M