I am going to be honest. The Nordstrom Anniversary Sale is always a big deal for bloggers. Other then the holidays, nothing generates more revenue for the year then this sale. If you follow other bloggers, then you know this is true because Nordstrom content dominates posts and social media feeds for a good two weeks! I, myself, used to really dive deep into it. I would head to Nordstrom, try everything I like on and then proceed to put together a whole different bunch of looks and styles that I would share with my audience. On top of that, I would have several additional posts breaking down other "must have" buys across different categories. But alas I changed my approach a couple of years ago.
For one, the sale really does not provide that much in big savings. Yes, you are getting a discount on new merchandise for the upcoming fall season but I don't think it warrants stocking up on everything! And two, a lot of what you see is the same year after year. I mean, I am guilty of sharing the same set of Diptyque Candle Set during each sale! So while I still cover it, I do it on a much smaller scale.
I do think with the right mindset and a strategic approach, there are some very worthy buys for the fall season this early on! I personally do not spend a lot on summer clothes. It is our fall and winter pieces that end up being our must worn (and usually more expensive!) pieces. So instead of racing all at once to fill in the holes in our wardrobes come late September, I like focusing on some of that during the Nordstrom Anniversary Sale!
Nordstrom Anniversary Sale Early Access 2021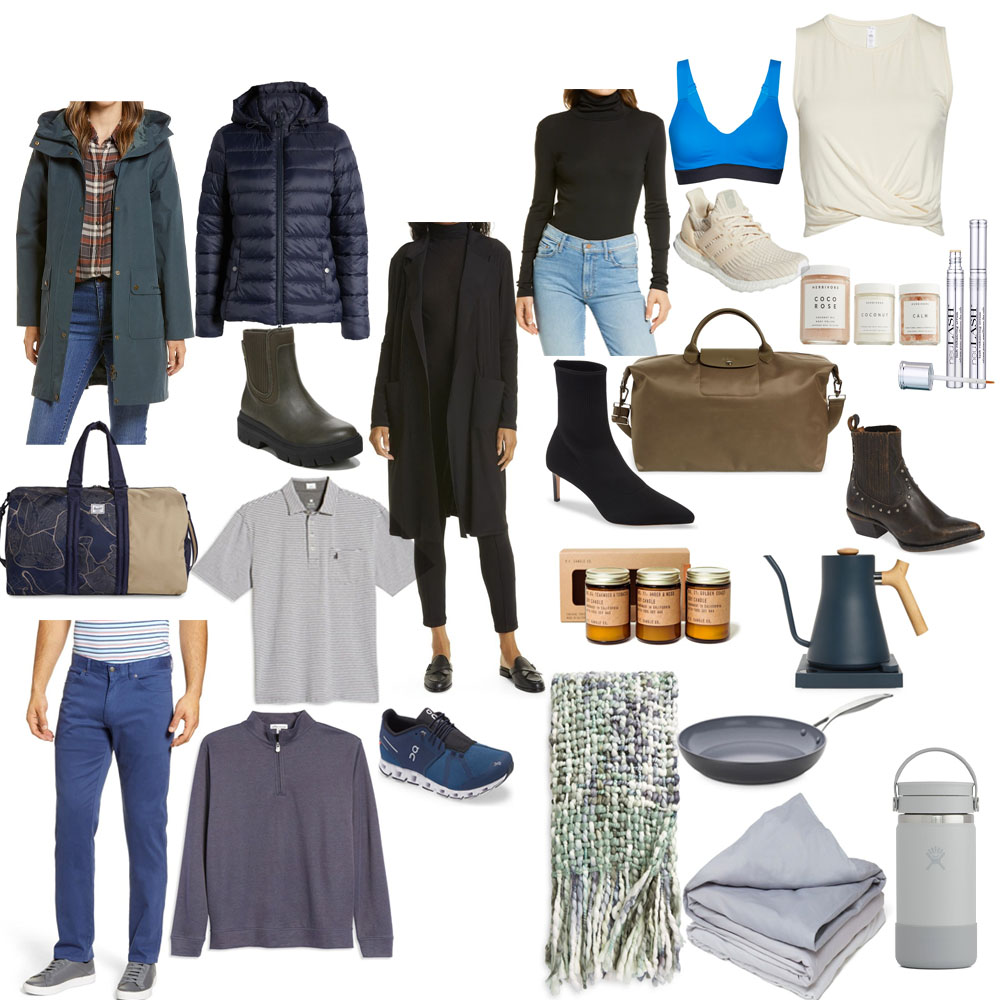 The Nordstrom Anniversary Pre-Sale for Nordstrom Card Holders beings July 16. If you see something you want, just save it to your wish list and purchase when the sale opens this Friday!
First Row (L to R): Rain Parka // Insulated Navy Jacket // Black Basic Turtleneck // Sports Bra // Sneakers // Alo Tank
Second Row (L to R): Rain Boot // Max Mara Black Dress Coat // Black Dress Boots // Longchamp Travel Bag // Herbivore Pampering Set // Lash Serum
Third Row (L to R): Duffle Bag // Johhnie-O Striped Polo // Set of Candles // Electric Tea Kettle // Short Cowboy Boots
Fourth Row (L to R): Peter Millar Pants // Peter Millar Pullover // "ON" Sneaker // Throw Blanket  // Ceramic Non-Stick Pan // Weighted Blanket // Hydro-Flask Water Bottle
Women
If I could only buy one thing at the Nordstrom Anniversary Sale, it would be a piece of outerwear. Outerwear is hands down you best wardrobe investment. Whether it be a winter jacket, a raincoat, or a dressy coat, this is a great time to invest in something fresh and new.  My second choice would be boots. I don't know if there is a such a thing as too many when it comes to living in Chicago. I didn't see a lot of winter boots options, but I would go for a rain boot, a dressy black boot and a short cowboy boot if you do not already have one!
One good basic that caught my eye was this turtleneck from Splendid. Cute enough on its own but great for layering in the fall and winter as well! Comes in white too! I was disappointed in this year's denim selection. They were mostly skinny jeans (which of course still deserve love!) but I think most women are looking for alternate styles here.
Other good fill-ins for this sale are activewear, beauty favorites and luggage! Now is a great time to get your hands on the ever so popular "ON" sneakers at a discounted price! Specialty products like eyelash and eyebrow serum are worth a buy here! And finally, I am drooling over this Longchamp travel bag. Truly the best travel carriers on the market!
Men
There are some nice men's brands that are part of the Nordstrom Anniversary Sale, Peter Millar being a favorite over here. I bought these pants for Rob on Father's Day and he loves them. Nice enough to be considered dressy but with a casual and comfortable fit. He also has this pullover I plan to get in another color. Men too will find "ON" sneakers on sale! And if their luggage needs an upgrade, this duffle bag is so good looking!
Home Nordstrom Anniversary Sale Early Access
Throw blankets, candle refreshers, water bottles for the school year, to name a few of the things to consider purchasing from the home sale. These are my absolute favorite candles to burn for fall. The scents are woodsy and divine. Weighted blankets were a standout item last year so now is a great chance to get one at a discount! This electric tea kettle in no way is a necessity but boy do I think it is good looking!
If you are looking for more of an in depth approach to the Nordstrom Anniversary Sale including how to organize for it and shop the pre-sale head here.
You can also follow me on Facebook, Instagram and Pinterest 
Thanks for stopping by!
L, M