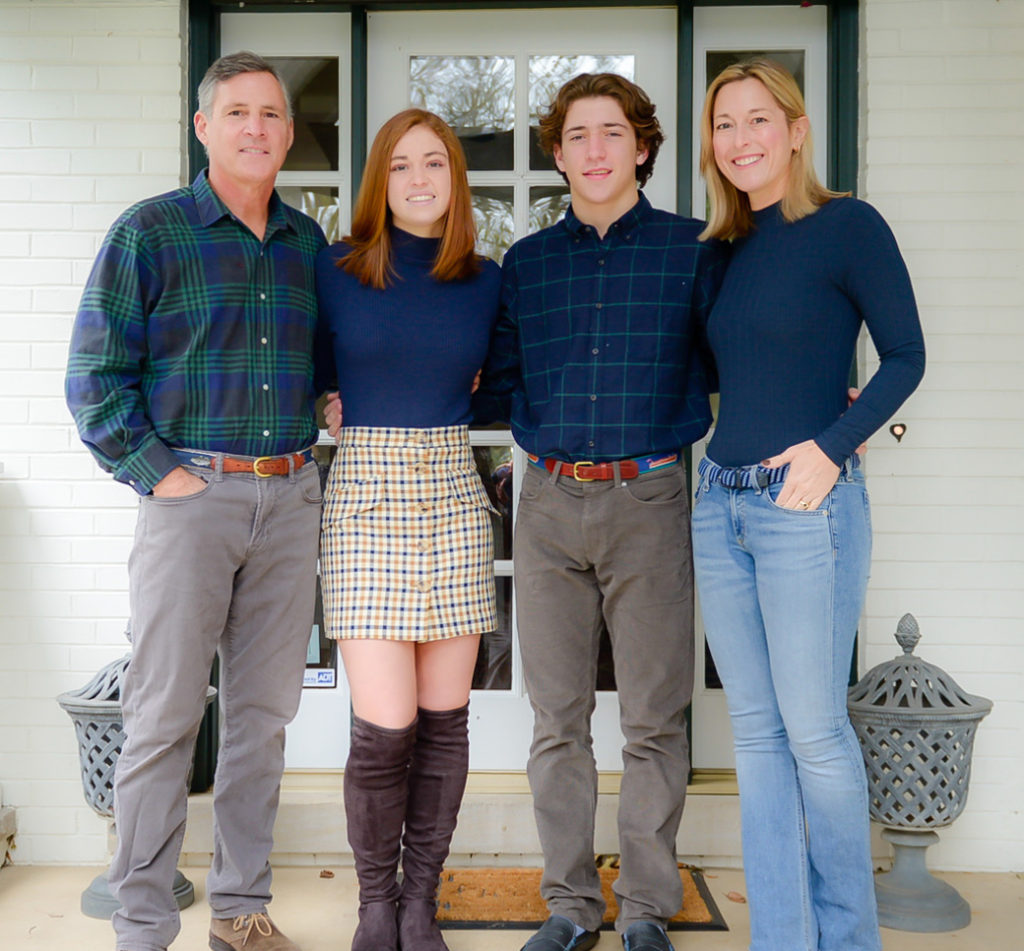 It is around this time of year that we shoot our family picture for our annual holiday cards. In years past, it typically is just our own family. And by the look of things, it will most likely be our immediate family again this year! But last year we were lucky enough to have a large family photo session done when my brother and his family came in town for Thanksgiving. And I am so glad we were able to have these family photos done, especially not knowing what was coming around the corner!
What's wonderful about shooting a large family photo for a holiday card is turning those photos into family portraits that can be enjoyed for years to come. These family portraits become wonderful reminders of the time you shared when you were together. Keepsakes that are passed down from generation to generation. And while the photo session themselves can often be hectic and a little stressful, there never seems to be regret in doing them!
What to Wear for Family Pictures
Even though we knew well in advance my brother's family would be spending Thanksgiving with us last year, we had a hard time booking a photographer that week. My usual favorite photographers were out of town! So it was not until the final days we were able to secure someone. And then we needed to quickly decide what we were going to wear! For this fall family photo, we also had family members ranging from grandparents to toddlers so we needed outfit ideas that were simple and convenient to pull from our closets.
In years past, I am sure I am not alone, when just thinking about family photo outfits caused a lot of stress. But in reality, after throwing ours together last minute with many people involved, I quickly learned sticking to a "formula" works.
Choose a Setting
There is no doubt about it, outdoor photos shot in natural light turn out the best*. Even if a photo needs to be shot indoors, try and do it during the day when natural light is pouring in! From there, choose a background setting. Nature of course provides endless outdoor options for beautiful settings, especially in the fall.  Summer is always a good time to plan a family photo but beach settings I think are perfect anytime of year! If you are so lucky to live in a place that has a true spring in bloom, outdoor spring family photos are so pretty! Vibrant colors pop best against a snowy backdrop during the winter!
If a family photo is planned for inside*, then plan for a simple background if possible while avoiding too much home decor in the background. Photo sessions on the stairs or all the grandkids piled in a bed in their Christmas pajamas turn out so well! 
*You might be wondering why I chose a black and white photo. Below is an example of what you do not want. Unnatural light and a busy home decor background. Make sure you clearly communicate with your photographer your expectations. Good photographers will also coach the group and have a a good eye for appropriate background settings. To be fair we were working with a cloudy and rainy day that limited our setting options!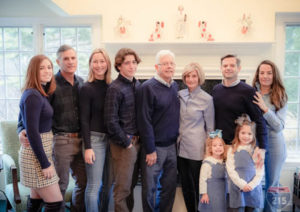 Choose a Style
Unless there is a special event like a wedding or a graduation, casual family photos are easier to coordinate! But from there, casual can take on different themes! As mentioned, holiday pajamas are a fun and easy option (just shop early for coordinating sets!). Ugly holiday sweaters is a cheeky and fun way to style a family photo for the holidays too! Sending someone off to college? Show collegiate spirit with a family photo done in college sweatshirts and school colors! An all white attire picture on the beach is always an easy but beautiful choice. Family photos with matching holiday hats and scarves against a snowy background is a great theme for the holidays! Again, family photos should capture a moment in time you want to remember and hold onto!
Choose A Color Scheme
With the exception of everyone wearing white for a family photo at the beach, coordinating color does not necessarily mean the same color for everybody! Choose a color scheme with complementing colors. Here are some great options:
Navy blue with greens
Light blue with tan and white
Crimson and shades of brown
Red and grey
Navy, tan and cream
Blue, green and yellow
Blush, white and tan
Coordinate Textures and Patterns
When done right, coordinating textures and patterns with your selected color palettes adds great dimension to your family photo. Unless there is a specific theme in mind, like Christmas pajamas, plan to choose clothing ahead of time so not everyone shows up wearing pattern! If you are introducing pattern, another good rule of thumb is to have more color then pattern in the photo. For instance if there are nine family members in the photo, choose three to wear pattern and/or add have others add a solid color sweater or jacket over a patterned piece.
Family Photography Ideas
When choosing what to wear for family photos, you want to feel good. You want to feel comfortable, especially the little ones! Uncomfortable means unhappy and that is not what you are aiming to capture in your picture! Also, don't forget to check hair, buttons, zippers and shirts (tucked in) right before your photos take place!
Fall Family Picture Outfit Ideas
Setting:
Outdoors with colorful fall leaves
Colors: 
Brown and Maroon
Denim, Yellow, Crimson
Navy, Tan, Cream
Denim and Tan
Patterns:
Plaid
Texture:
Corduroy and leather


Winter Family Picture Outfit Ideas
Setting:
Outside in the snow or at a Christmas tree farm. Inside on the stairs or piled in bed
Colors:
Crimson and shades of brown
Red and White
Green and Navy
Patterns:
Holiday pajamas and sweater, Fair Isle sweaters
Texture:
Cable knits, layer with hats scarves and mittens


Spring Family Picture Outfit Ideas
Setting:
Blooming greenery
Colors:
Blush and White
Light Blue, Tan, White
Patterns:
Floral, gingham
Texture:
Grosgrain hair bows and headbands; silk scarves


Summer Family Picture Outfit Ideas
Setting:
The beach; pier or boat deck; sunset or just about anywhere outdoors in the summer!
Colors:
White
Tan and White
Light blue, Tan and White
Navy and White
Red and White
Patterns:
Stripes
Texture:
Denim and linen


You can also follow me on Facebook, Instagram and Pinterest 
Thanks for stopping by!
L, M