What to Wear on an International Flight
With the summer travel season here, I know some of you are heading overseas for vacation! First of all, I am jealous! I am dying to get back to Europe. As we complete our final season of travel baseball this summer (London on hold due to this!), I hope to add a European itinerary to our own summer plans next year!
While I am sure the thought of heading overseas is nothing short of exciting, the thought of traveling on an airplane to get there is probably not as much. Long haul flights are hard.  But they can be a little more tolerable with thoughtful preparation. And at the core of feeling good on an international flight, is knowing what to wear on a plane.
Comfort of course is key when thinking about your travel outfit. Yet it is important to preserve some sense of style as well! Being a well dressed traveler not only puts yourself in a better position to be upgraded (yep, it's true) but you also arrive at your destination putting your best foot forward.
So how does one come up with the perfect plane uniform? Layering in loose fitting, natural and breathable fabrics is the key to feeling good and looking good on a flight. Air travel often means being exposed to a variety of climate changes. From the hot tarmac to the air conditioned cabin, layering with materials like cotton, silk, or linen, allow air to circulate on your body while wicking away sweat. Organically made fabrics are wonderful options as well. Search for words like Tencel and Lyocell. Besides covering all the above, these fabrics are also wrinkle resistant. Some of my favorite Tencel lines include Bella Dahl and Cloth and Stone
Basic Tee
As your first layer (and often your savior on a hot tarmac), wearing a loose fitting, longer tee, tank or cami is your baseline of comfort. A basic tee or tank also serves well under a long sleeve button down. More than any other item, wearing a natural fabric as your base is a big part to staying comfortable on a long haul flight.
Comfortable Shoes
Selecting comfortable shoes that are easy to slip on and off helps when passing through airport security. They also make life easier when logging all those steps to and from the gates, customs and baggage claim. But also take note that feet swell in flight so make sure to avoid shoes that might be too constricting.
Jacket
A light jacket is the quickest way to look chic and pulled together. After your flight, it is also the best way to conceal rumpled clothing.
Long Cardigan
You will need to have pieces that you can easily take off or put on to combat the different temperatures you encounter throughout your flight. A long cardigan or pullover will give you warmth when the temperature drops in your cabin and provide additional comfort when sleeping.
Loose Pants
If I could only give one piece of advice it would be do not wear jeans, especially skinny jeans. The material does not breathe and they can feel restricting (not slimming!) on a long haul flight. Instead out for a more loose fitting jogger, cargo pant or palazzo pant.
Scarf
Scarves are perfect for two reasons. One, they serve well as a light blanket and two, it is a chic accessory for topping off your look.
Socks
Whether or not you have a pre-existing medical condition, compression socks are always a good choice for air travel. Compression socks or stockings, which promote blood circulation, help prevent swelling of the legs, and help guard against deep vein thrombosis (DVT). I also suggest packing a pair of cozy socks in your carry on bag for an additional layer of warmth.
Undergarments
The first item to touch your skin sets the stage for feeling good. For the ultimate in comfort, avoid underwire bras. Cotton bralettes are a great option instead. In terms of underwear, quick-drying, sweat wicking and breathable define the best travel underwear. ExOfficio is hands down the most recommended in this category.

Travel Accessories
I have a post here on what to pack in a carry on bag. Yet for an international flight, additional travel tips include a good sleeping eye mask and travel pillow, noise cancelling headsets, and a great lip balm (this one is worth every penny and will last you a long time!).

International Flight Outfit Ideas
Outfit 1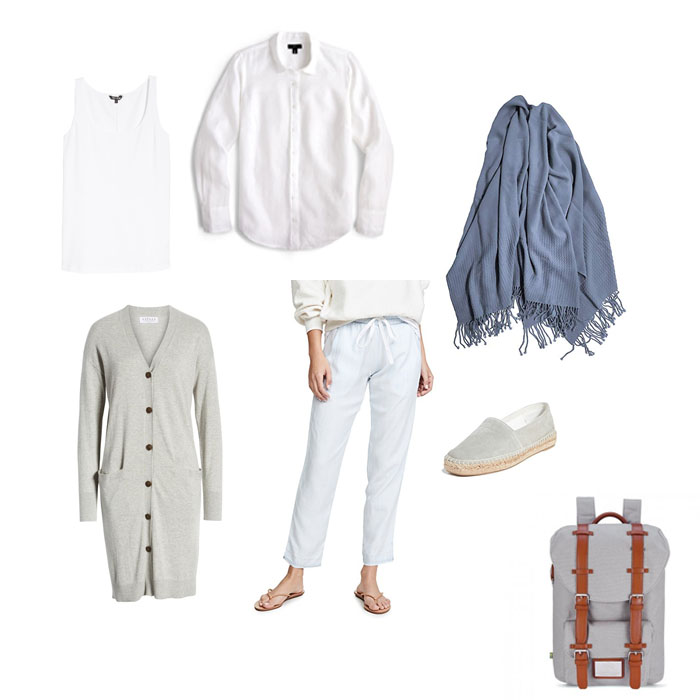 Tank here // Button Down here // Wrap here // Cardigan here // Pants here // Espadrille here // Backpack here
Outfit 2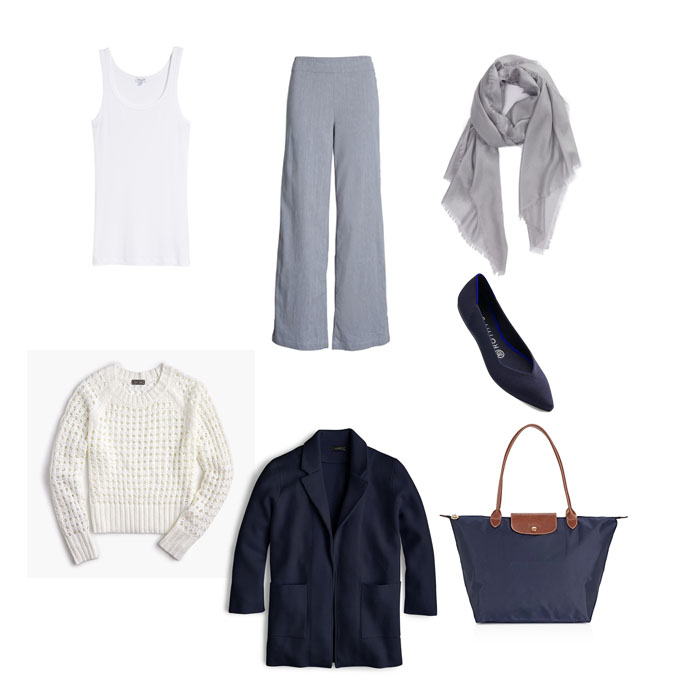 Outfit 3
Tank here // Pants here // Scarf here // Ballet Flats here // Sweater here // Sweater Jacket here // Tote here
Tee here // Pants here // Sweater here // Jacket here //Scarf here // Sneakers here // Bag here
Affiliate links are used on this blog. If you purchase something through these links, I may earn a small commission through the retailer (not you of course!)
You can also follow me on Facebook, Instagram and Pinterest 
Thanks for stopping by!
L, M