Staying Home For NYE
The last time I remember getting dressed up and going out for New Year's Eve, I was in my twenty's. A group of girlfriends and I bought tickets for a NYE bash hosted by a radio station at Navy Pier. The venue was jam packed with party goers all dressed up and fighting to get a drink. It was awful! I cannot recall dressing up and going out since!
The landscape of how I spend NYE has changed for sure. Part of it due to the fact that I no longer want to spend it at an overpriced sit down dinner or event. The other part being, I have a family now, and I'd rather be at home with them. That's not to say I never will dress up in sequins and toast champagne to midnight again. In fact, I would love to host a NYE party at some point. For now though, the perfect NYE is spent in the company of my family and a few close friends.
Keeping it Simple
Even if we do end up staying at home most New Year's Eves, I still want to make the evening special. That means putting together a simple yet elegant meal. On this year's menu, I plan on making a quiche, a green salad and my grandmother's popovers.
Up until now, I never thought about making a quiche. Maybe the fact that is helms from France intimidates me! A quiche must be complicated to put together then right? With that said, I recently polled a mom's group I am part of on Facebook to share their favorite places to BUY quiches. One mom ended up posting a recipe saying they are super simple to make! What's more is she learned the recipe from a French chef! I decided to give the recipe a try. Well, she is right! Quiches are super simple to make and the possibilities are endless in creating one!
If you too plan to stay at home or even head out to a friend's, here is a simple quiche to put together. This is also great on a New Year's Day menu as well.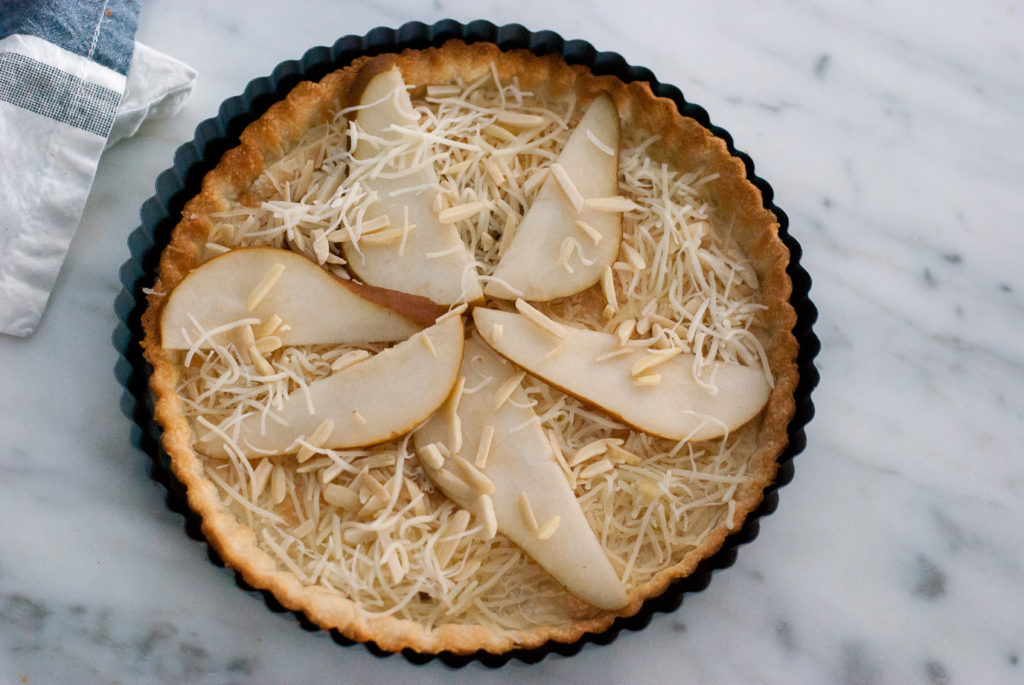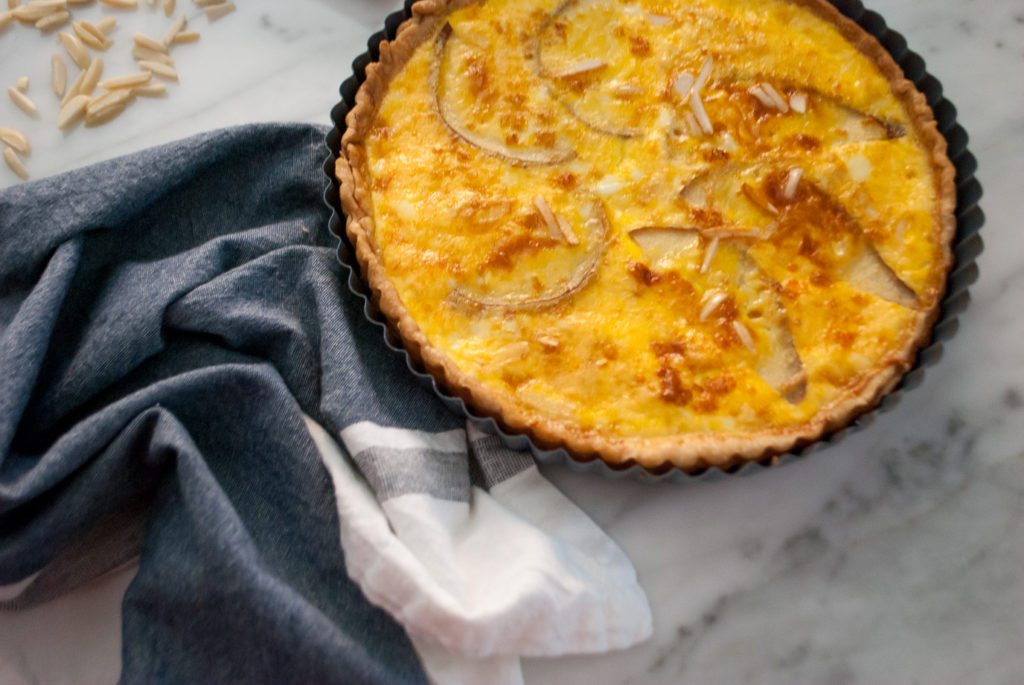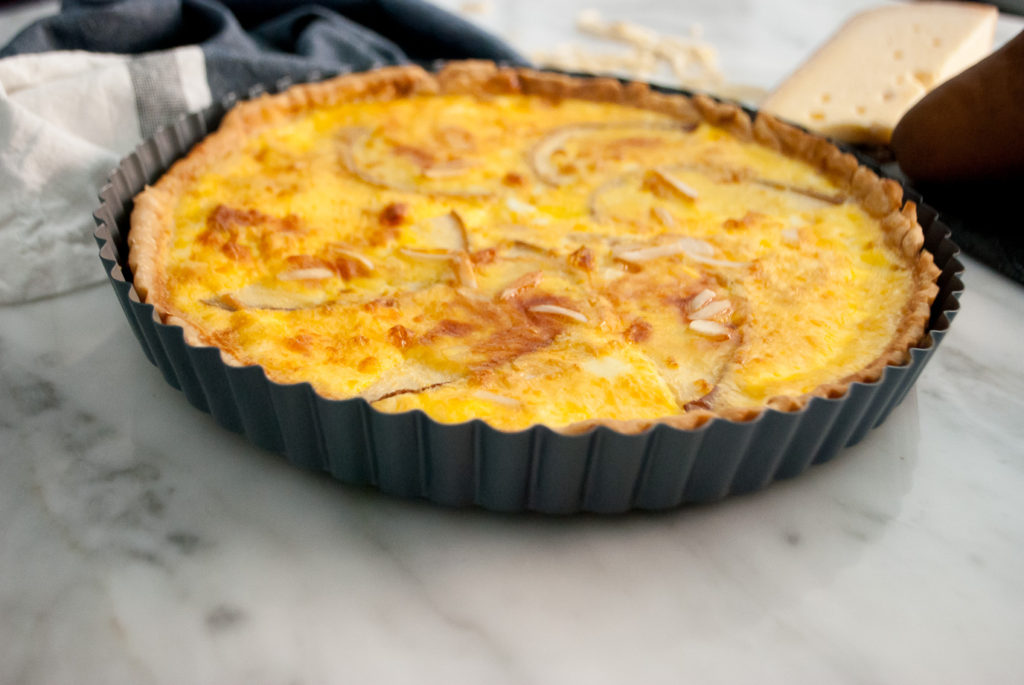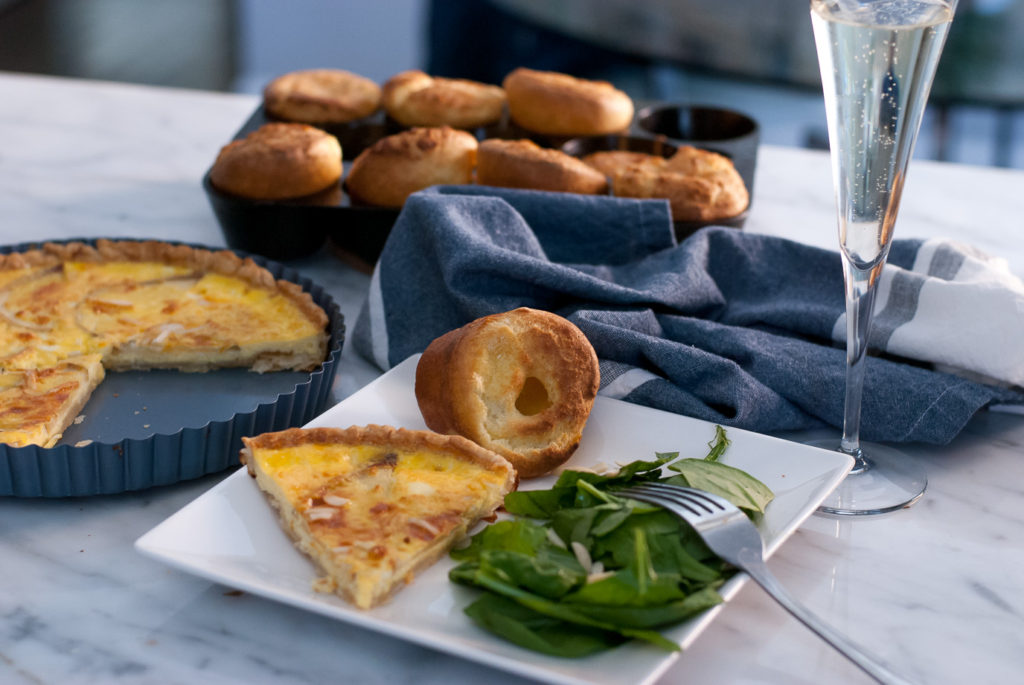 NYE Simple Quiche Recipe
Ingredients:
9 inch pie crust
4-6 eggs slightly beaten
3/4 cup half and half (can use variations of milk but half and half gives it more depth)
1 tsp of almond extract
1/4 cup sugar-I use a little less
*Sliced Pears
*Swiss Cheese
*Slivered Almonds
*for these ingredients, I just judge how much by eye. See photo above.
Directions:
Pre-heat oven to 350 degrees. Pre-bake pie crust in a non-stick 9 inch quiche pan. Mix together in a bowl the eggs, sugar, half and half and almond extract. Build your inners of Swiss cheese, pear and almonds into the crust. Pour egg mixture over top. Bake at 350 for forty minutes. Remove from oven and let stand for ten minutes. Voila!
Since this variation of quiche lends to sweetness, offset the rest of the menu with a spiral ham, popovers and a green salad.
Baking note: I recently bought this quiche pan for making quiches. It has a drop out bottom for easy serving. I highly recommend if you are in need of one!
Happy NYE everyone!
Never Without Navy is also on Facebook, Instagram and Pinterest 
Thanks for stopping by!
L, M
SaveSave